The valedictory of TAPAS Festival held in Chennai this year culminated in the presentation of the prestigious 'VIDHYA TAPASVI' awards that are presented every year to eminent musicians and dancers for their contribution towards the arts.
For the season 2011-12 the honours were conferred upon Padmabhushan. Sangeetha Kalanidhi Shri. T V Sankaranarayanan, (which was more befitting especially this being the Madurai Mani Iyer's centenary year); Sangeetha Choodamani Smt. Sowmya and eminent dancer Shri. P T Narendran.
The awards were presented by Shri. Narayana Vishwanath, musicologist and Pujyasri. Prema Pandurang, spiritual preacher and philosopher.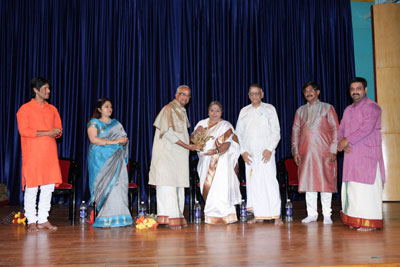 (Left to Right in the Picture: P T Narendra, Sowmya, T V Sankaranarayanan, Pujyasri. Prema Pandurang, Narayana Vishwanath, Balayogi and Ashwin Kumar Iyer)