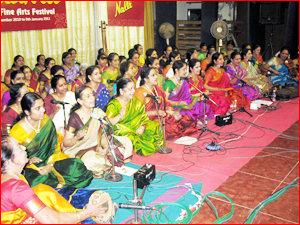 Chennai-based Mudhra organized Thyagaraja's Pancharathnam singing exclusively featuring 60 women artists (in sruti 5) on 2nd January 2011.
Leading vocalists like Gayathri Venkarraghavan, Geetha Raja,Vijaylakshmi Subramaniam, Radha Bhaskar, Vasundhara Rajagopal, Nisha, Seetha Narayanan, Salem Gayathri, Varalaksmi Anandkumar, Subha Ganesan and others participated.
The accompanying artistes on the violin, veena, flute, mandolin and on the mrudangam were also female artistes.
Senior mrudangam artistes included N. S. Rajam ( sister of flute maestro N. Ramani) and Tanjore Padma.