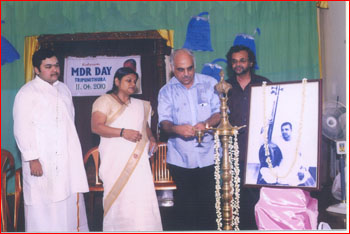 The celebrated Carnatic maestro M. D. Ramanthan is remembered every year at Tripunithara in Kerala by a small band of rasikas led by Krishnamoorthi.
This year, the eighth Remembrance Day of this maestro who was decorated with the 'Padma Shri' in his lifetime was held on April 11. Krishamoorthi has been a huge fan of MDR and he, single-handedly organises this event.
Senior vocalist Neyveli Santhanagopalan was scheduled to perform at this event but he could not not make it so the hosts managed to get young artiste Kashyap Mahesh who is based in Tiruchi and is a sishya of T V Gopalakrishnan to stand in. The young man travelled miles to make sure he was on time for the concert.
C. R. R. Varma from Kochi who plays a major role in hosting the Swathi Sangeethotsavam music fest and the Navaratri music fest in Thiruvananthapuram was the chief guest.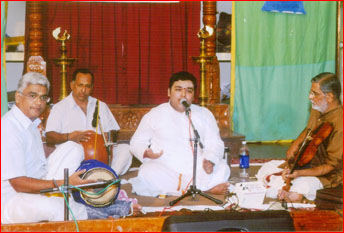 Varma, a story teller shared some anecdotes on MDR. He said that MDR's health was bad when he came to Thiruvananthapuram to sing for the Navaratri music festival in 1984. Chalakudy Narayanaswami was on the violin and Palakkad Raghu was on the mridangam for this concert.
"But even in this condition MDR's music was great and he got a full house," he recalled. "Sadly, he passed away 6 or 7 months after this event."
Local MLA K. Babu presided at the formal event and Kashyap Mahesh and Renjini Suresh shared their thoughts on stage.
A message sent by MDR's son Balaji Ramesh was read out too.
Mahesh began the concert with a vandana sloka and launched into a MDR composition ' Gaja vadana mampahi' in hamsadhwani, followed it with another MDR special, Thyagaraja's ' Endaro mahanabhavalu' and presented a few more songs.
The main piece was ' Sarajadala nethri' by Syama Sastri.
The accompanists were Trichur C Rajendran on violin, Chennai S. Thyagarajan on mridangam and Udupi Sreedhar on ghatam.
You can contact Krishnamoorthi at 'Thiruppukazh', Poonithara, Ernakulam, Kerala. Cell - 98951 95984.
<< You too can share your personal experiences of MDR if you have some. Mail the note to - editor@kutcheribuzz.com >>