If there is one dance festival that showcases Bharatanatyam with a certain purpose and does manage to attract a huge audience, it probably is the one hosted by Natyarangam, the dance wing of Narada Gana Sabha, held annually in the month of September in Chennai.
Every year, a specific theme is taken up by the hosts after rounds of discussion, and talented artistes are commissioned to work on a one-hour production, with the assistance of eminent resource persons.

In the past ten years, this festival has showcased themes such as religions, Harikatha, Navarasa, Laya (rhythm), ancient literature like 'Silappadhikaram' and 'Shakuntalam' and the epic 'Ramayana'.

This year, the focus was on saint-poets.


View Photo Gallery
Bharatanatyam guru M. K. Saroja, mridangam vidwan Adyar Balu, dancers Shreejith Krishna and Nritya Jagannathan, who received awards in the inaugural day seen with the guests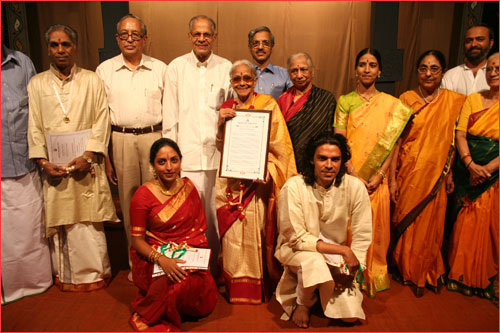 The festival called 'Dasa (daasa) Bharatham' featured the compositions of the various saint-poets of India, in Bharatanatyam. Held from September 6 to 10, at Narada Gana Sabha's main hall, the fest saw a huge turn out of rasikas everyday.
The inaugural day had senior dancer Padma Subrahmanyam presenting compositions of Annamacharya. The other evenings had two solo performances, each focussing on a different saint poet who has composed in a different language.

The dancers featured were Shijith Nambiar who performed verses from Narayana Bhattadri's 'Narayaneeyam' in Sanskrit (resource person - Dr. Neelabala Sharma); Chitra Chandrasekhar Dasarathy who danced to compositions of Kabirdas and Surdas (Hindi); Uma Namboodripad Sathyanarayanan performing abhangs of Tukaram and Namdev (resource person - Tukaram Ganapathi); Sheejith Krishna performing the Malayalam compositions of Poonthanam (resource person - K. S. Latha).

Day four featured Narsi Mehta's compositions in Gujarati by dancer Mythili Prakash (resource person - Saralaben Trivedi) and dancer Jayanthi Subramaniam performing the verses of Azhwar and Nayanmar (Resource person - M. Vaidyalingam).

On the final day, in the place of dance-couple Kirans, young Aishwarya Nithyananda, a disciple of Radha Sridhar of Bangalore presented compositions of Purandaradasa and Kanakadasa, followed by the well known Urmila Sathyanarayanan presenting verses from Pothana Bhagavatham (resource person - Dr. Pappu Venugopala Rao).

A short note on the saint composers, detailing their biography and significance of their works, were distributed to rasikas each day. R. Krishnaswami, Secretary, Narada Gana Sabha says, "We've had a very good response from rasikas this year. Even the artistes who have performed feel good about their work."

Says dancer Urmila Sathyanarayanan, "It was very challenging and we enjoyed presenting it. I would have never thought of studying Pothana Bhagavatham's verses. I think it came as a blessing when 'Natyarangam' asked me to perform this. The verses are not written for music and they have no meter. So it was quite difficult to set them to music. There are about 25,000 verses and Dr. Pappu Venugopala Rao who has done his Ph.D on Pothana's works selected the verses. While I initially thought of tracing the life of Krishna, Dr. Pappu suggested that it would been better to highlight the best of poetry, instead of following a chronological order. So, we presented the episodes of 'Gajendra Moksham', 'Vamana avatharam', where the growth of Vamana to Trivikarama is compared to the beautiful form of the sun, and we chose an episode where Sathyabhama accompanies Krishna to the war with Narakasura. Here the comparison in the way Krishna and Narakasura perceive Sathyabhama in the warfield is brought out very beautifully in the poetry."

Clearly, for dancers, the fest introduced them to texts and works they may not have explored.

Says dancer Uma Nambudripad, "For the first time I performed abhangs and it was quite interesting to take them up. A book called 'Santa Vani' featuring the works of all the Maharashtrian saint poets has been compiled by Tukaram Ganapathi and was just released. This book has the verses, alongwith the meaning in Hindi and Tamil. Tukaramji also gave me the authentic tunes for the abhangs that we chose. My guru Chitra Visweswaran guided me in selecting the verses. The language was not difficult to understand, since I was born and brought up in Maharashtra. But it was quite experimental to introduce the swarams and jatis in the abhang format, which just follows the 'namasankeertanam' pattern. I want to re-look at the production and expand it a litle more" which is another trigger of the Natyanrangam festival.

Dancers who have been commissioned to work for this event go on to perform it on other stages. Some 'expand' it as Uma intends to do. In a way, audiences elsewhere begin to witness different productions.

On the inaugural day of this event, Bharatanatyam guru M. K. Saroja who turned 75 this year, was honoured. Endowment awards were presented to 'Adyar' Balu (mridanga vidwan), Sheejith Krishna (senior dancer) and Nrithya Jagannathan (young dancer).

Contact Narada Gana Sabha, Ph: 24993201.