Malaysia's well known dance vocalist Padma Subramaniam passed away on Sunday, June 13, 2004. She was aged 56 and died of cancer.

She is survived by her violinist-husband R. Subramaniam, son Sriram and daughter Maykala. Daughter of Subramaniam Iyer and Meenakshi ammal, Padma started her musical training at the age of 5 by learning Tirupugazh at the Meenakshi Amman temple in Madurai, in 1953.

Her formal training in Carnatic music began under Ganesha Bagavathar of Madurai and continued under Melatur Narayanaswami Bagavathar in Thanjavur. After completing her pre-university studies, Padma enrolled at Raja's Music College in Thiruvaiyaru. Chitoor Subramania Pillai was the principal then and Padma trained under musicians Srivanjiyam Ramachandra Iyer and Swamimalai S. Janaki Raman.

After her marriage, she moved to Malaysia in October 1968. Her career as a music teacher started in 1970 with a small group of students.

Padma was a regular participant at the music fests organized by Malaysia's Sangeetha Abhivrithi Sabha and Sangeethalayam. Padma also gave vocal lessons in Kuala Lumpur. Over the years, Padma was well known for providing vocal accompaniment to Bharatanatyam performances.

Padma's first attempt at this was when she and Radha Subramaniam led the orchestra that accompanied Melbourne based Chandrabanu's performance at the Brahmana Samajam, Malaysia's celebration of Thyagaraja Aradhana in 1989.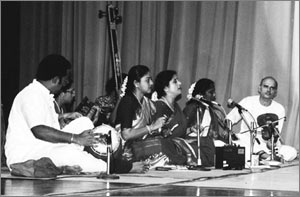 She went on to lend vocal support to local and overseas dancers. Ramli Ibrahim's Sutra Dance Theatre, made her their regular vocalist for their Bharatanatyam performances and arangetrams. She accompanied Chandrabanu and Ramli at their concerts in Singapore, India, Australia, Europe and USA.
Guna, Nadarajan Muniandy, Santhi Moorthy, Mavin Khoo, Dennis Shambumani and Vasanthi Manet are some of the other dancers for whom she has lent vocal support besides institutions like Krishna Kumari's Krishna Bharatha Kalaalayam, Dr Amirtha Devi Sakathevan's Amirthaanjali Dance Academy, Apsara Ram Gopal's Kshetra, and Shanti Murugaiah's Saathveeka Bharathaalaya.
The awards she has received include the title 'Isai Kalai Arasi' (Sangeethalayam) and a Gold medal from Inmal Corporation for services to culture and religion and recently nomination for Boh Cameron award.
If you knew Padma Subramaniam, mail condolence messages / anecdotes to editor@kutcheribuzz.com
Your messages will be posted here.
---
Here are the meassges we received...
We were very close to aunty Padma and her husband. They were some of the nicest people we know. Aunty was always jovial and was so much fun to be with. At the the same time she was so generous with her talent and knowledge. She sang for the arangetrams of two of Kshetra Academy's students as recently as last November.
Early this year, we informed her that we would like to honour her and her husband at this year's annual Nrithyotsav concert. They were both very happy. Sometime around early Feb Apsara called her to ask if we could come over to record a Thirupugazh.
We fixed a date around mid-Feb. When we went over, she said that she was in a state of discomfort and that the doctors suspected an ulcer. We told her that we would record on another day. She would have none of it, however, and said "It's only one song isn't it? Come on let's do it" Thus we did the recording.
What we recorded was the Thirupupazh 'Nada bindu kaladi namo nama' and it ended with her singing the stanza "Deepa mangala jothi namo nama.........." What we did not know then was that it was to be her finale. Two weeks later we received the news that she had cancer and the she was to go in for her chemo right away.
The entire Indian artistic community here in Malaysia feel orphaned by Aunty Padma's demise. A very lovely and generous person and an artist of the highest order, Aunty Padma's demise is an irreplaceable loss and has left a huge void in our hearts. May the Almighty grant peace to the departed soul and give strength to Uncle Subramaniam, Maykala and Sri Ram to tide through this difficult time...
Apsara & Ram Gopal
Kshetra Academy, Malaysia
---
The music fraternity of Malaysia has indeed lost a wonderful teacher/performer and a friend. A loss that cannot be replaced.

We fondly remember the various occasions when Smt Padma Subramaniam was associated with the Temple of Fine Arts, Kuala Lumpur. Some years ago, she participated in the Tyagarajah Aradhana organised by the Temple of Fine Arts in Johore Bahru and presented an exquisite Sangeetha Upanyasam on Thyagarajah's life history interspersed with interpretations of the saint's compositions. Her mastery over Sanskrit, Telugu and Tamil made the entire presentation both educational and enlightening.

We who drew inspiration from her musical abilities miss her, but we know, now that she has merged with the Naada Brahmam, she will continue to guide all of us.

The students and teachers of the Temple of Fine Arts International, Malaysia