The Natyanjali experience...
Dancer Aruna Subbiah, a sishya of Prof. Sudharani Raghupathy, performed at the Natyanjali festivals in south India this year. In this column, this Chennai-based dancer shares her experiences with KutcheriBuzz readers... Click here

The Natyanjali dance fest in Chidambaram is a sort of pilgrimage for me. Though I am not a dancer. Or a dancer's grandmom. But come Shivaratri, I want to be at the abode of Lord Nataraja. And at the festival.Journeying down the picturesque East Coast Road is an enjoyable experience. One is tempted to stop over at Pondicherry but we skip the temptation and reached the temple town as the sets are being erected on the stage in the outer courtyard of the temple, on the eastern side.

The Natyanjali Trust which runs the annual fest is always short of funds. But the men persevere.And they are rewarded this year with donors like Nalli Kuppuswami Chetty, the silks businessman in Chennai and the Mumbai-based chief executive of Godrej Sara-Lee, Mahendran.It is good to see familiar faces when you go back to an event like this one.

One of them is Vageesan, the man who feeds more than 400 artistes, make-up men, nattuvanars, workers and guests, daily. The fest is still 24 hours away but Vageesan has tiffin in plenty. We need to catch some sleep to enjoy a distraction the next morning.

Mangroves of Pitchavaram
The Tamil Nadu Tourism department has arranged a trip to the mangroves-rich backwaters of Pitchavaram (12 kms from Chidambaram) to enjoy the sunrise, learn some yoga asanas and listen to Carnatic music.

The 30 minute journey is horrible because the road is horrible. And they expect tourists to come here? When will the state Tourism gets its act together.

We grin and bear the torture because these mangroves are rare and what a sight on a sandy strip on Chinnavaikal, when the sun rises from the oceans at about 6.00 am.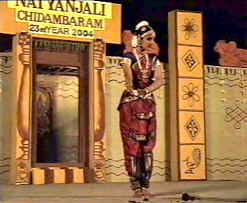 Back in Chidambaram and at the temple, my colleague, photographer Mohan Das Vadakara, is keen to showcase select black and white pictures of all the famous dancers he has shot on stage.
The Podhu Dikshitars, the community of priests, which runs the temple, is not warm to the idea. They have had too many people armed with Sonys and Nikons taking pictures of the deity, so shooting anywhere inside is banned and so are exhibitions and promos.
Dancer Sonal Man Singh, now Chairman of the Sangeet Natak Akademi, Delhi, has completed her darshan but is piqued when she sees a bunch of foreign tourists in shorts and skirts being allowed into the sanctum of the temple. Sonal thinks people must be properly dressed if they want to see a temple where worship is an essential part of the temple.
The town is as dirty and dusty as it has always been. There is no effort to highlight the unique dance fest. Ironically, the TN Tourism Department claims that Natyanjali is its own but does little to promote it and celebrate it. The festival opens on the dot with nadaswaram. Feb.18, 6 pm. Sonal Man Singh performs Odissi at prime time. And shares her thoughts, visibly overwhelmed with emotion. "Without devotees like us the Gods would feel lonely too," she says.
As the clock shows 10, devotees flood the temple, keen to keep vigil and take part in the midnight abishekams. In the southern quarter a kutcheris fest is also on. That evening P. Unnikrishnan is performing. It was Neyveli Santhanagopalan the previous evening. He says he would love to sing all night for Shivaratri the next time.
Natyanjali 2004 has been in favour of dance troupes. Secretary A. Sambandam, a well known lawyer, who sidestepped a career in politics, says this policy would give more artistes the opportunity to perform at the Natyanjali. So this year, more than 400 artistes would have been on stage through the five days. Lesser known dancers have to report in as late as 4am as the opening night's performances spill over and go on till 6am. Most of us keep yawning, others are dead logs on the sand but the music and the dance does not waver.
Natyanjali fever
We sleep till lunchtime to make up and prepare for a long trip that evening. The Natyanajli fever has caught on at many places. At Thiruvarur and Nagapattinam, at Kumbakonam and Thanjavur, similar dance fests have been organised.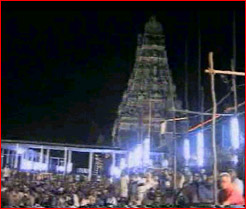 We leave for Thanjavur in the company of Manna Srinivasan of Sruti magazine. Manna has tales to tell of the Tanjore Quartet and of devadasis and of the rare Brahmotsavam of the Sri Brihadeeswarar Temple in Thanjavur. The world passes by us, some expanses dry and crop-less and others, shaved of a new crop of paddy.
Thanjavur is honking, nudging and racing when we drive in after sunset. Some 200 people sit around the stage of the giant Nandi statue inside the Big Temple as the first dance recital begins. This is a group from Ramnad. Celebrated dancer Padma Subrahmanyam was among the dancers who performed on the opening evening here. Organiser Muthukumar tells us they could not manage the huge crowds on Shivaratri night as they headed for the grace of the delightful Nandi.
This is a great backdrop for dance and although the fest ran for three evenings and was a modest start, the Forum of Friends, a local group, and the government-run South Zone Cultural Centre, will do well to build it up as a major event. Tourists are swarming Thanjavur all the time and at the Poompuhar showroom for handicrafts, the smart saleswoman shows us some cute little antiques collected from the Chettinand countryside. We are behind time and have to give up on having tiffin and filter coffee at Coffee Palace, the best tiffin centre in Thanjavur.
Kumbakonam's Festival
Kumbakonam's colonies are retiring for the day when we arrive there. The town is in the news for the once-in-12-years Mahamaham festival in early March. The streets are clean, the lighting is bright and roads are being re-laid.
Sonal Man Singh finishes her final item on stage, set in front of the towering gopuram of the Sri Kumbeswararswamy Temple. But the backdrop is too gaudy. Also, the hosts seem to have less volunteers this year and some dancers are left high and dry while the pushy ones have their cake and eat it too. Kannan rips a new composition on the veena as Padma Subrahmanyam takes the stage, after Chennai-based Revathi Ramachandran and her sishyas finish their anjali, in a lively performance. The yard is full and most people may have never been to a dance recital at all. They seem to enjoy dance dramas. Backstage, more dancers report for their recitals. Since Thiruvarur, Nagapattinam and Kumbakonam are in one region, it seems practical to invite a set of dancers to perform at all these temples.
It is chill at 11 pm. And it is time to drive back. We spot a rare nook for Rajasthani food in the bazaar area. The meal is delicious and the steaming masala milk keeps us awake till we get back to Chidamabaram at 1am. Bythen, Day 2 is done.
Neena Prasad, the well known young Mohiniattam dancer based in Thiruvananthapuram (Kerala) is here with her colleagues. She flew down from Delhi after performing at the Buddhist heritage promotion conclave. A group of teenage dancers from Switzerland go on stage, guided by their Chidambaram- based guru. They hardly know a word of Tamil but they seem excited and blank at the same time.
Chennai-based dancer A. Lakshman brings his troupe of young dancers. Last year, he had Japanese and French sishyas at the Natyanjali. Lakshman dances like a man possessed. "I was someone else the moment I began to dance. Something happened this time. Don't ask me what!" says Lakshman. Well, many dancers say the same thing after they perform on this stage and these enrich the legends of Natyanjali.
Next morning, we try to coax a Dikshitar priest to allow us to photograph Lakshman's sishyas as they offer their anjali before the Lord. We get a concession. We can shoot outside the kanaka-sabha. The girls dance freely and seem to enjoy the experience. Photographer Vadakara has his fill on tape.
Checking out Vriddachalam, Nandanar's countryside
Writer Manna Srinivasan coaxes us to join him on a drive to Vriddachalam, some 35 kms from here. We stroll inside the Sivan temple there and listen to Manna's extracts from the stala puranams. An army of workers are now working overtime to ready five thers (chariots), some of which were destroyed in a fire.
It pays to get back to Vageesan's meals. And he promises us sweet pongal that evening. Day 4 also features Mako Satomi, a Japanese student of Uma Sundaram of Chennai. Satomi gets into yoga asana mode once she gets backstage, to prepare for her recital. Chitra Visweswaran and husband are also here for their performance. Chitra and her dancers had performed in Colombo, Sri Lanka, on Sivarathri night, then flew back, danced at Kumbakonam and drove down to Chidambaram. Gosh! Jet-set dancers indeed.
Natyanjali witnesses hordes of 'kutti' dancers. Fighting sleep, sharing the excitement. Sheela Unnikrishnan is pleased with her brood's show that closes Day 4. There are more than 1000 people at midnight to applaud Sheela and her troupe.
It is Sunday and the Final Day. But at Chidambaram's Natyanjali you never know if its Saturday or Sunday. Manna Srinivasan has another pilgrimage to make and takes us along. To the birthplace of Nandanar, Lord Shiva's devotee extraordinaire! A small temple has been built at this village, about 36 kms from Chidambaram, on the advice of the Kanchi acharyas. You get blessed many times over when your car runs over unending rows of paddy crop stocked four feet high on these horrendous roads - husking done easy! Nandanar is at peace in his shrine. And we listen to the story of his life all over again. Retold by the local priest.
The stage looks different as Day 5 opens. Navy blue slats. colourful backdrops and props crowd the stage. Word goes around that a spectacle is scheduled later that evening. The audience trebles. It is past 10pm when Anita Guha from Chennai introduces 'Mahadevam Mahasenam Bhaje' featuring more than 60 young and kid dancers in colourful, story-telling dance sequences. There may have been slips and glitches but the enthusiasm and energy and effort makes it the show of Natyanjali 2004. At curtain call, there must have been at least 5,000 people applauding.
As the keepsake pictures are taken, a coconut and camphor is pulled out for a drishti wave and the backdrops packed, the ground falls silent. And a tired volunteer carries out the bronze Nataraja which has always found a special place on this stage.
Feel free to also share your experiences at the Natyanjali Festivals. E-mail to editor@kutcheribuzz.com. We will post them here. Keep your postings short - say, 100 words!