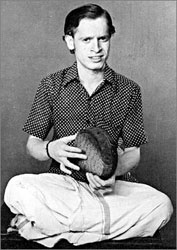 He was a prodigy who amazed he Carnatic music world. He created magic with the kanjira. And found a place with the greats at kutcheris around the world.

But, G. Harishankar exhausted himself too soon, too fast. And he passed away in Madras on 11 February 2002. He was just 44. The kanjira has fallen silent.

Harishankar, had his initial lessons in percussion from his father Govinda Rao.

Mridangist Karaikudi Mani says, "Harishankar's playing was unimaginable. He had an inherent talent and played with a tremendous clarity. As a percussionist, he made a big name at a very young age. It was M. L. Vasanthakumari who first introduced him as an accompanist. Later, I brought him to limelight, and encouraged him to play for leading musicians after which he had a great take off. The audience started noticing him."

"In 1986, he played for my 'Sruthilaya percussion ensemble' and the cassettes and CDs are still popular. His passing away is a great loss to the field of music."

A recipient of the Kalaimamani award from the Govt. of Tamil Nadu, Harishankar was the first Kanjira artiste to receive the prestigious Sangeet Natak Akademi award from the Govt. of India recently.

Says Ghatam Karthick, "We had mutual love and affection for each other and it is a big personal loss for me. He was a living legend. His passing away is like the end of an era." "There were rasikas ho attended kutcheris just to listen to Harishankar. I would say he was the personification of the word, 'astonishment'. He could play at a tremendous speed with one hand, that equalled the playing with four hands. At a very young age, he made his mark as an 'Upapakkavadhya' artiste. It has been a privilege for me to play alongwith him in kutcheris and jugalbandhis."

Says Violinist Kanyakumari, a disciple of MLV, who has seen Harishankar ever since he was a youngster, "It was Krishnamurthy Rao, a mridangist, who suggested to MLV amma to include Harishankar in her concerts. After seeing him play, Harishankar was a regular in all her kutcheris. Even Palghat Mani Iyer himself has applauded Harishankar and once said that there was none to equal him in Kanjira. He was like camphor and would grasp anything quickly. It is a great loss to the carnatic world."

Harishankar has accompanied renowned musicians right from M.S. Subbulakshmi and D.K. Pattamal to Mandolin Srinivas and many others.

He is survived by his wife and a ten-year old daughter. Harishankar's family resides at No.8, V. C. Garden 1st street, Mandaveli, Chennai 600 028. Ph: 4940335.

If you wish to send messages to Harishankar's family or if you knew this artiste and wish to share some comments on him, mail us at editor@kutcheribuzz.com

Messages received at KutcheriBuzz:
Magendiren Moodley, Percussionist, South Africa writes...
It is with great sadness that I express our deepest condolences to Vidwan Harishankar's family and friends on behalf of all percussionists and musicians from South Africa. He was an inspiration to so many aspiring and senior artists in South Africa and I am sure all around the world.

I feel both deeply saddened and fortunate becos I had the opportunity of watching his brilliance during the 2001/2002 season in memorable performances with The Malladi brothers and Trichy Sankaran, Lalgudi L Krishnan and Sivaraman sir among many others . These performances only reinfoced my opinion that what Shri Harishankar could do with one hand, many would find difficult to do with two.

I am still in shock but take solace from the fact that I was able to experience his unmatched speed, intricate calculation, absolute clarity and most striking, his humlity considering the greatness of the artist.

Long live the memories of this Great Artist
---
G.S.Ganesh Athreyaa writes...
As we all call him, Hari mama, has left us all behind. My friends and myself are fanatics of Hari mama. For the last 4 seasons we haven't missed even one concert played by him. Still we couldn't digest the fact that he is not with us anymore. We still keep hearing the korvais and fillers he played in concerts and see his ever smiling face in our dreams. And I personally feel that God has proved Hari mama to be human, by giving him death. Anyway may he come back to this world in his next birth and continue playing kanjira and let the mortals listen to his "dhom" again.
---
MudhraBhaskar ,Madras writes..
Yes, it is no doubt that Sri.Harishankarís demise as a Kanjira maestro is a great loss for the carnatic music field.
When I was a disiciple of Sri. Mannargudi A.Easwaran in the late seventies, I have heard a lot of concerts of Harishankar with Easwaran Sir, for MLV amma with Kanyakumari. Even now, I can recollect the enjoyment of tani in Misra chapu talam played by Easwaran Sir and Harishankar for Dr.N.Ramaniís Flute at Madhava Perumal Koil, Mylapore.
I was really gifted to hear a lot of amazing tani avarthanams when I was learning from Karaikudi Mani sir. Not only as a mridangist but also as a sabha secretary of Mudhra I feel that he is a very soft, kind and straight-forward person to interact. Sri Harishankar really brought respect as a upapakkavadyam in the carnatic music field.
Thank God that we are in the era of electronic media which enables us to preserve Harishankarís play.
---
Apsara & Ram write..
To The Family of the Late Kanjira Legend, Sri Harishankar
We cannot find the words to express the grief and sorrow we feel at the sudden loss of one the Karnatic world's legends. Verily he was God sent for a purpose. And, we are sure he has returned to his rightful abode.
He will always be remembered. And, because of that he shall always remain with us.
Our prayers are with you all.
OM SHANTI, OM SHANTI. OM SHANTI.