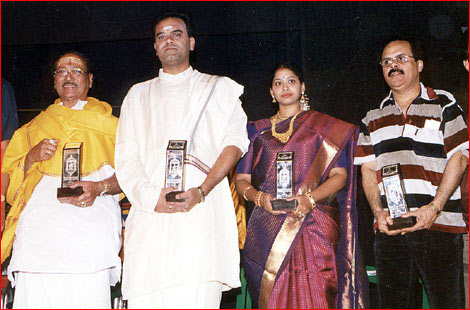 Nithyasree added to her harvest of awards this year with the 'Vani Kala Sudhakara' title given by Sri Thyaga Brahma Gana Sabha(The vocalist rceived a title from Kartik Fine Arts early this month).
The other awardees include T.V.Gopalakrishnan, Delhi Sunderrajan and 'Crazy' Mohan. The awards were given at the inaugural function of the 22nd annual Isai Iyal Nataka Vizha hosted by Sri Thyaga Brahma Gana Sabha, one among the older institutions of its kind in Madras, on 10 December 2001 at Vani Mahal. President of the sabha, 'Deccan' Moorthy welcomed the dignitaries after which danseuse Srekala Bharath lit the kuthuvilakku. S.A Narayan, Director (Human Resources), Bharat Petroleum Corporation Ltd.Mumbai inaugurated the fest. L. Sabaretnam (CEO, ICL Sugars Ltd.)was the chief guest for the day.
There was a reasonably large audience who had come to see their favorites being honoured. Dr. M.Balamuralikrishna who conferred the Birudu on the recipients, spoke about his lengthy association with Sri Thyaga Brahma Gana Sabha. Mentioning that he himself had received the title when he was a young musician, he congratulated the awardees.
Dancer-actress Vyjayanthimala Bali, Cartoonist Madan and vocalist T.V.Shankaranarayanan felicitated the recipients of the birudhu. Following the inaugural function was a Bharatanatyam recital, 'Bharatiyin Viswaroopam' by Lata and Gita, based on the different aspects of poet Bharathi's compositions.