The Madras chapter of International Dance Alliance and The Music Academy in association with ABHAI, presented a two day dance festival, 'Nrithya Mala' on July 18 & 19 in Madras. It was inaugurated by writer and activist Sivasankari.

About 12 groups of young dancers with varying standards of performance were featured at the fest held in the TTK auditorium of Music Academy.

Each thematic presentation had a duration of about 20-30 minutes. And the audience turn-out on both the days was quite impressive. Most of the troupes used recorded music while some had a live orchestra.

The fest began with 'Gnanadatha Tvaam Vande' themed on 'Guru Bhakthi' choreographed and presented by students of the well-known dancer Chitra Visweswaran.

Commenting on the work done by the students, their Guru said, "It is not just the style, choreography or the technique that is carried on, but the value system that they represent. Now I think I can sit back and see them choreograph."

The dancers in this performance included Sukanya Ravinder, Lakshmi Ramaswamy, Vijay Madhavan, Priyamvada Murali, Anasuya Banerji, Mridul Vivek, Preetha Lakshmi, Lakshmi Parthasarathy, Aniruddhan, Vasudevan, and Sankara Narayanan.

Emotions of Lord Shiva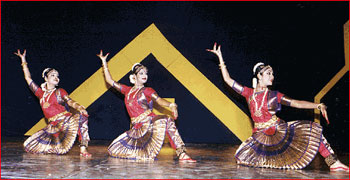 Natyapriya "Navarasa Nayaka" group from Bangalore
This was followed by 'Navarasa Nayaka' on the nine emotions of Lord Shiva by Navia Natarajan, Shilpa Uthappa and Kirti Ramgopal of 'Natya Priya School of Dance from Bangalore. Their guru Padmini Ramachandran who was flying off to Los Angeles the same evening had come to Madras just to see her students perform.
'Aadavaney' a varnam was presented by students of Nrithyakshetra of Muralidharan. The teenage dancers were Aparna Jagadeesan, Sivakumar, Sundari, S.Lakshmi, Monica, Pushpapriya, Gayatri,Swethavidya, Ranjini and Harini.
Students of Ganesha Natyalaya from Delhi presented 'Shivananda Natyam'. This was choreographed by their guru Saroja Vaidhyanathan. It featured Aarthi Shankar, Onana Tchovgovena, Prema Sridhar, Bhavana Muralidharan and Deepika Gupta.
A contemporary piece with movements drawn from modern dance and Bharatanatyam was presented by Swarnamalya Ganesh alongwith four male dancers Fayil (a Russian dancer), Rajesh, Madhusudanan and Ranjit.
'Iduvum Athuvum' themed on the two energies that control the universe as symbolised by the Hindu concept of 'Shiva-Shakthi' was presented by Sheejith Krishna and Kavitha Ramu along with Archana, Blanche Fleen (a Canadian dancer), Ramya Bhasker, Sudeesh and Shyla. Actress and TV star Revathy Sankkaran who had suggested the theme made a guest appearance to explain the concept of 'Iduvum Athuvum'.
Dance jugalbandhi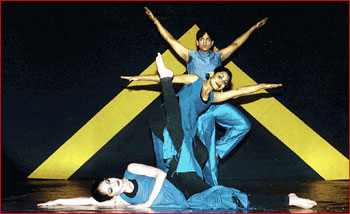 Madhu Natraj Heri's stem dance theatre from Bangalore
The programme on 19 July commenced with a jugalbandhi of Bharatanatyam, Kuchipudi and Mohiniattam titled 'Triumbike' featuring Sailaja, Uma Murali Krishna and Roja Kannan representing the three different styles respectively.
About 50 teeny-weeny children of 'Kalarpana' who must have been just initiated to dance presented 'Thaalaatu'. The feature which had incorporated comic elements was choreographed by Shobana but it reminded one of a school annual day celebration and did not fit in well with the impressive line of shows.
Madhu Nataraj Heri of Natya Institute of Kathak & Choreography and Stem Dance Theatre along with her group presented 'Sadbhavana and Aakar'. This featured a Kathak piece and a modern dance item. The group had dedicated their concluding 'Tharana' to the dancers and audience of Madras.
Anita Guha's dancers impress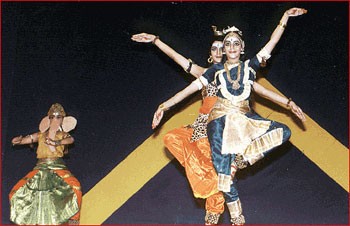 Anita Guha's group "Thadaasthu"
Five talented and well trained students of Anita Guha presented 'Thadaasthu' based on an episode relating to Shiva and Sanneeswara. Nine year-old Medha Hari who played the role of little Muruga stole the show and received an applause for her neat execution of the short jatis. She was also particularly noticed for maintaining the 'araimandi' (the half-sit posture in Bharatanatyam) as she posed and waited for over ten minutes when the others performed. The dancers included Aishwarya Narayanaswamy, Charanya Ragothaman, Madhumati and Prathiba.
'Chandrodhayam' describing the beauty of the rising moon was presented by Manjari, Krishna Kumar, Ranjit Lavanya, Hemamalini and Ramesh.
The fest concluded with a thillana by Aarthi, Mahalingam, Vidhya, Priya, Krishna and Preetha, all students of Shri Jaya Aruna Bharathalaya.
The comperes for the fest were dancers Gayatri Balagurunathan and Anusha Natrajan. The stage managers were Deepa Menon, Usha Srinivasan, Radhika Shurajit and Kausalya Srinivasan. Stage sets and design was done by Lavanya and Mrinalini. The two-day fest was co-ordinated by Leela Sekhar, Advisory Council Member, I.D.A. This was a well planned and co-ordinated effort.
The Madras chapter, IDA, functions from D/3, 'Aashiana', 9, 2nd Street, Venus Colony, Alwarpet, Chennai- 600 018. Ph: 4358825.