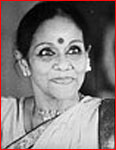 The Sruti Foundation's annual E. Krishna Iyer Medal for the year 2000 is to be given to veteran danseuse and Guru, M. K. Saroja.

The medal was instituted by Sruti Foundation, which brings out the monthly Sruti magazine on music and dance from Madras, in 1989 in memory of E. Krishna Iyer who played a vital role in the renaissance of Bharathanatyam.

The medal will be presented with the co-operation of Sri Krishna Gana Sabha on December 22 during the valedictory session of the 20th All-India Natya Kala Conference in Madras.

This was the time when the society frowned on the art as that of the temple dancers, and he worked tirelessly to restore it to its rightful place among the classical arts.

Managing Trustee of the Foundation N. Pattabhi Raman said that the dance Guru, now in her 70s had made a distinctive contribution to the preservation and promotion of Bharathanatyam.

Saroja will be the 11th recipient of the honour which has gone to the likes of 'Kumari' Kamala, to Kalakshetra, Kalanidhi Narayanan and K. P. Kittappa Pillai.

Saroja, and her sister, Selvamani, came under the tutelage of Vidwan Muthukumaran Pillai of Kattumannar Koil,Chidambaram in the early 1930s when Bharathanatyam had a shadowy existence in polite society.

She became famous as Baby Saroja at the age of nine and was soon spotted by the legendary Ram Gopal and joined his dance group which had other luminaries like Mrinalini Sarabhai and U. S. Krishna Rao.

Saroja remained a leading practitioner of her art and also danced in Tamil films like Nalla Thambi, Paithiakaran and Krishna Bhakthi.

In 1949 she married well known dance scholar Professor Mohan Khokar who became the first head of the first dance department of a University in India - in Baroda.

Saroja conducted numerous Bharathanatyam training workshops in Europe and has a number of foreign students. She was a visiting professor at the M. S. University in Baroda and the Rabindra Bharati University in Calcutta.

She is the recipient of the Central Sangeet Natak Akademi award and the Kalaimamani award of the Tamil Nadu State Eyal Isai Nataka Manram and the President of India's honour in 1996.