Two young and celebrated music artistes, J. Vaidyanathan, who plays the mridangam and Savitha Narasimhan, a vocalist, were awarded the Kalki Krishnamurthy Memorial Award for this year in Chennai. The award recognises the best among young Carnatic musicians. J. Vaidyanathan is the son of the late musician D. K. Jayaraman and disciple of mridangam maestro T. K. Murthy. Savitha Narasimhan, a disciple of 'Chitravina' Ravikiran, shifted from Delhi to Chennai to further her career is classical music.
So how do young Carnatic artistes like these two view their training, their careers and the performance circuit today?
What are their challenges, what are their goals, what are the rewards?
KutcheriBuzz got the two artistes together to talk on these and other issues. Revathi. R. interviewed them.
How did you got interested in music and how did your parents take it when you wanted to take up a career in music?
J. Vaidyanathan: I hail from a family of musicians. My father D. K. Jayaraman was only too happy to know that I was interested in music. Though he was a vocalist of repute, he encouraged my interest in percussion. There was no pressure from anyone in the family to take up music or not to take up. My interest was respected.

Savitha: I do not have a family background in music as such, though my mother and grandmother sing very well. My parents insisted that we take up one profession and do well in it. They let us pursue our interests. My sister is interested in dance and she went on to make a career in it. My parents made sure that though we were away from Chennai, we received good training in the arts we were interested in.
Tell us your training in music? Long hours?
JV: The fundamentals were taught thoroughly. We had the time to go to school and also pursue our interests. But when it came to learning and practice, those two or three hours were very strict sessions.

Savitha: Yes, we had a lot of time. We even had time to play and still had four to five hours of solid practice in music. Learning is easy these days.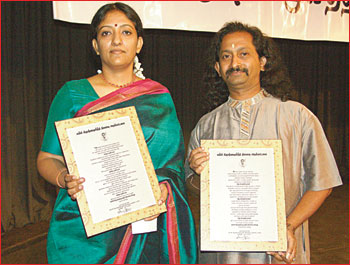 You also teach music. Do you find that today there is a demand to teach more in less time?
Savitha: There are a lot of facilities to aid learning and teaching. But the students should be committed to learning and perfecting what the teacher teaches. Arangetram is just a beginning. There is a lot more to learn after that.

JV: Yes, I see hastiness as far as some mridangam students are concerned. The guru should be the guiding person and decide the right time to present a student on stage.

Savitha: There are people in both categories - they learn a few things quickly and go on to stage and another category who believe that performing well is more important than performing early.
What is your experience with your students?
Savitha: Many of them are serious. But there are too many activities. There is pressure from parents on their children - they want them to excel in everything they do.

JV: I would blame the growing number of TV channels. The concentration level is falling. Actually, due to my busy schedule, I am not able to teach nowadays.
You both are busy artistes and travel frequently for concerts. It is evident that there is a growing demand for music performances all over the world, isn't it?
JV: There are a number of opportunities for artistes. But not for all. You should be good at your skills to be offered the chances to perform.

Savitha: Talents are many. The number of organisers grows day by day and opportunities are plenty. But only quality sustains. The best are always in demand.
In your busy schedules, how do you manage time for practice?
JV: After a certain level, your practice is internal in your mind. My father used to sit with his eyed closed, compose the tune and sing it on the same day at the evening concert. One cannot improvise the composition beyond that. Practice is only up to a certain number of years of learning.

Savitha: It is more mental than physical practice. Intelligent practice is more necessary than merely a rigorous one.
Do you also teach your students the techniques of practice?
Savitha: Yes, a guru should be good at identifying the level of students' capacity of learning. Some pick up very fast and require minimum practice.
What do you think of crash courses?
JV: I don't advocate crash courses. It is just the urge to know more in a short time. The guru has to decide when to move on to the next lesson. The guru should make it clear what he is going to teach if he teaches for a short duration, say during summer holidays.

Savitha: There is no such thing as 'crash courses'. The regular students want to learn more in the holidays, when they find more time. That's all. We go through a full term of 12 years to complete our school curriculum. Why hurry in arts? Also, learning alone will not help. One should listen to great musicians and master the techniques.
Do you attend your fellow-musicians' concerts? Or get together to discuss about music?
Savitha: Yes, when time permits I attend. Sometimes I sit through just for a few songs. But we don't meet or get together, except on occasions when there is a thematic concert with other musicians as a team.

JV: I attend only senior musicians' concerts for want of time! Yes, get togethers will help develop ideas and innovations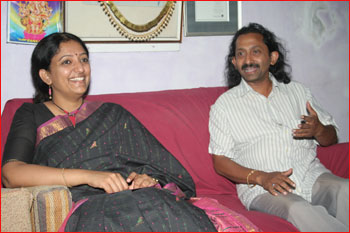 When we talk about innovations, what do you think of fusion? How do you feel while performing a fusion?
Both: We enjoy!

Savitha: When it comes to fusion let it be that. Let us not make it as if we want to promote only the classical in fusion too!

JV: The artiste should be clear about what he or she is doing in fusion. There should not be confusion in it. Do it the way the fusion is all about!
Incidentally, we find people enjoying the mridangam and drums session in a fusion concert, whereas in Tani avarthanam during the classical concerts many walk out! How do you feel about that?
JV: We feel bad when people leave the concert during Tani. But, if the fusion takes place everyday, I think people will walk out from there too! It is the novelty that attracts. That's all.
Why don't you think of a novel idea for Tani to retain the audience?
JV: I can stand up and play mridangam (laughs). Perhaps, the audience should be asked to sit through the concert once they are in the auditorium as it happens in Europe. But then, operas go on for just an hour unlike our concerts.

Savitha: Perhaps it is because too many concerts are happening and people sit for Tani in one concert and leave in another. It is for the rasikas to maintain discipline, to respect the artistes.
Both of you are full time musicians. What is your advice for those who want to take up music as career? Can it now be a profession?
Savitha: It is paying. But it takes time to get to there. It is not like other jobs where you are assured of a certain sum after you put in so many number of years' of service. You are not offered a basic pay for the qualification. In fact artistes like us are working towards something unknown. But definitely if you put in sincere efforts, you be rewarded.

JV: I would not suggest to young people to take classical music as full time profession. Especially when you are an accompanist. Please have a job to fall back.
Why do you say so?
JV: Purely from the remuneration angle. Many young artistes of these days appreciate the contribution of accompanying artistes. But there are senior musicians who still follow the old system, where a major chunk ( of the money) is taken away by them. Leave alone the monetary part, the basic comforts (of travel and lodging ) are not offered to the accompanists many times
What do you mean by that?
JV: Imagine an accompanying artiste forced to travel by non-air-conditioned second-class in a train for 36 hours during summer to perform soon after arrival! I don't demand a fee that is equal to that given to the main artiste. I seek basic comforts so that we are physically and mentally fit for that day's concert. A tired body and mind will not produce the best!

Savitha: A concert is not complete without an accompanying artiste. You cannot listen to vocal music alone for two and a half hours!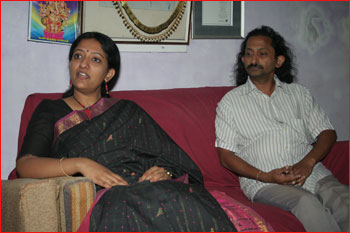 Do you feel that any other changes in the system is necessary?
JV: Definitely artistes' remuneration. And in a bid to reduce expenses, the organisers tend to have the minimum accompaniments. My father DKJ used to have a full platform of accompanying artistes. If not that many, at least a mridangam with a upa pakka vadhyam like ghatam or kanjira.

Savitha: Reducing the expenses is all right. But the music should be enjoyable and so you need all the necessary accompaniments. There is no need to have frills on stage just to attract people. The concerts should not be jazzy.

JV: I agree. D. K. Pattammal and other great musicians of the old days did not sing to the gallery or for the purse. Their music touched the heart. That is important. But these concerts may be exclusive and only a few may attend them . . .

Savitha: Still they are worth having them . . . and as artistes we should have the commitment. These are my very personal views . . . about what I would like my music to be. I cannot and do not want to impose my ideas on others.