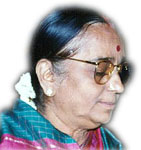 The most important thing about music is its purity.
We have to preserve it, and it is our duty to pass it on to the next generations.
One word for R. Vedavalli's music and what she stands for: Tradition. It means discipline, it means purity, in fact it means everything to this soft-spoken, gentle scholar and performer of Carnatic Vocal music.
Vedavalli spoke at length about herself and music to KutcheriBuzz.
When did you start your formal career in music?
My first sabha kutcheri was in Bangalore in the Malleswaram Sangeetha Sabha in 1953 when I was 18. In 1959 was my first Music Academy kutcheri, on December 28. It was a 'junior' kutcheri at 2.30 pm! After that I have sung every year at the Academy progressing to the senior slot, and now to this! (The Sangeetha Kalanidhi).
Tell us a bit about your ideas on music.
The most important thing about music is its purity. We have to preserve it, and it is our duty to pass it on to the next generations.
What about interpretations and innovations?
There is no need for innovations. Our classical music is a tradition going back thousands of years. There are certain disciplines that are recommended and it would be nice if they were followed. I don't know what all this 'janaranjakam' that they speak about is for. It is not necessary and those who change the traditional do it only for their own name and fame.

The innovators say that the audience prefers lighter versions and interpretations, and not heavy traditional renderings.
Even our old film songs were Carnatic music based. But when M. K. Thyagaraja Bhagavathar sang, he sang it the traditional Carnatic way. Did people not appreciate it? Didn't people listen? Those interested listeners are enough! Don't dilute such a great art for this.
What is the most significant thing about the Carnatic music tradition according to you?
South Indian music is based on devotion. It has kept pure, unlike Hindustani music that suffered the effect of the invasions, and we have to pass it on as it is, we have no right to change it!
Why is Carnatic music devotional?
Because music grew in the temples and just like you follow some disciplines when you grow up at home, some disciplines were imposed and were followed.So Bhakthi Bhava has the upper hand, and its composers and great performers never saw it as a dry art but as a reflection of the times in which it was nurtured and grew.
If not innovation, what is the way for a system of arts to change and grow with the times?
Those who are doing innovations do it only for name and fame, they cannot add anything to this great art.
Take any krithi that you have learnt, sing only that for 30 days. Let me tell you the swaroopam and rasam of your own singing of the same ragam and the same krithi will be very different at the end of the 30 days.
This is yoga. It has to be done through a lifetime. Not like doing aerobic exercises for half an hour in the morning.
So, why is this happening?
These days parents push their children - "Can you take her to the level of performing a kutcheri next year?" What can the child do. He can memorise and sing, but manodharma sangeetham will not develop, and that is the soul of music and this musical system. And people speak of teaching music on the telephone. How can music be taught on the phone!
But isn't manodharma sangeetham a technical thing. Will the listeners spot the lack of expertise in a singer?
I don't believe that listeners need to be technically qualified - they just have to be able to listen. Even lay listeners will be able to spot a lack of manodharma abilities and will find out repetitive memorised passages!
What is your favourite area in music?
I prefer practically oriented areas. Prefer lec-dems to speeches or papers for instance. Anything that can be applied practically or demonstrated practically is more natural for me.

You have been associated with reviving some old musical forms. Could you tell us a little about that. What made you take on these projects?
Mallari is an ancient temple music form. All temple rituals were accompanied by distinct musical compositions which are completely unlike the kutcheri music compositions. There are distinct passages that are played at abhishekams or naivedhyams, different passages for each vahanam, in fact for each ritual for the Gods from dawn to close of day, and people would recognise these pieces of music - played by the nadhaswara vidwans and their accompanists - and know the rituals that were underway.
But this art is almost lost to us. Only one temple - Chidambaram - still has Mallari being played, and the last of the vidwans, Radhakrishnan Pillai is in his eighties. Very soon the great tradition may be completely lost to us. Similar is the fate of the singing of the Arayars - the Arayar Sevai. I have tried to bring back some of the Mallari traditions as far as the music is concerned, and also Thyagaraja's Divyanama Kirtanas. There is so much to be done.
What projects do you plan for the future? Any pet projects you are working on?
I don't usually plan. If something strikes me I do it in a frenzy and finish with it! But I have a longstanding desire to work on a system to teach the manodharma part of music. We have an excellent system of teaching of Carnatic music, the Sarali Varisais and the Jandai Varisais, and these actually seem simple but are very subtle and lay the very foundations for the understanding and later performance of manodharma music.
I want to expound on how to use this system for expanding manodharma singing. I have done some work on this and soon I will be ready to publish the work, as books or as cassettes.
R. Vedavalli lives at 2 (old no 8), Lakshmipuram III Street, Royapettah, Madras - 600 014. Phone: 0091-44-8258285.
- By K. Nitya Kalyani