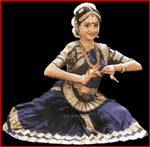 Bharatanatyam dancer Urmila Sathyanarayanan will be the recipient of the 'Nrithya Choodamani' award given by the Madras based Sri Krishna Gana Sabha this year. She will receive the award at the inauguration of the music and dance festival of this sabha in December 2001.

The 35-year old dancer had her initial training under K.N. Dandayudhapani Pillai and was later groomed by K.J. Sarasa. Academically, she schooled at Sacred Heart Matriculation Hr. Sec. School, Church Park, and graduated in Psychology from the Women's Christian College, Madras. Married to Sathyanarayanan, a software professional in the petroleum business, Urmila has a 11-year old daughter.

Along with dancer A. Lakshman, she runs 'Natya Sankalpa' a dance school in Kilpauk, Madras.

In early July, as she prepared for performances in New Delhi and then in Malaysia, Urmila took time off to talk to KutcheriBuzz in Madras. Excerpts from an interview given to Kutcheribuzz Reporter Aruna S.

You have been in the field for 25 years now. When did you begin dancing?
My mother was always interested in dance. Ours was an orthodox family and in those days, taking to dance was not so well encouraged as it is today. So she learnt music. But, she was keen to make her daughter a dancer.

I gave my first performance at the 60th birthday celebration of my grand father, Dr. Nammalwar Naidu on 1 May 1970. In those days it was common to have a dance performance at family functions. It was a big occasion and so the students of Smt. Ranganayaki Jayaraman were arranged to give a group performance. Since my mother was interested I was also trained to join the group. I simply took the different poses of Krishna in the 'Dashavataram', which the group performed at our Poes Garden residence in Madras. I was about 4 ½ years old then.

What was your experience as a student of the guru Dandayuthapani Pillai?
I joined his school, which was at his residence in Alwarpet, Madras, when I was about six. At that time, he was also a musician at Kalakshetra. We had a very disciplined training under him. We used to have dance classes for about an hour thrice a week and theory classes on Sunday.

Vadhyar insisted on a rigorous training in 'adavus'. Only after the footwork was perfected, we would be taught the hand movements.

Surya Santhanam, Suryakala and master's daughter, Uma Dandayuthapani were our teachers. Vadhyar would teach the seniors and only supervise the junior classes.

What memories do you have of him?
In 1975, vadhyar was planning a big function to release a book of his compositions. And for this function, he specially trained me to give a performance. I was supposed to dance 'Naane raja, naane rani...' which was similar to a gypsy dance and another song, 'Guruve Charanam'. That was the time that I closely interacted with him. But unfortunately, before the function, he went to the U.S for medical treatment. The book release and that function had to be put off. Vadhyar died soon after and that book was finally released only after his demise.

I had my arangetram in 1976, and I missed vadhyar on this occasion. But, when I was starting to have my make-up done in dance class for this performance, a flower fell from his photograph... now I think of it as his blessing for me

What kind of a person was he?
When I think of him, I only have memories of fun and enjoyment. He was a very accessible person and was fond of children. He lived well and even had an air-conditioned room for himself, which was a big thing those days. He would even host parties at his residence.

He loved to eat good food and would often share them with us. I was fond of non-vegetarian food and I used to be very fat then. On one occasion, master even asked me to sit next to him and have 'meen kozhambu' (a fish delicacy) at his house.

You are today known more as a student of K. J. Sarasa..
After vadhyar passed away his school was heading nowhere and my parents decided to take me to Sarasa teacher who was vadhyar's niece. I joined her school in 1981 and only with her guidance were my eyes really opened to dance...Probably I was grown up and I began to understand the depth of dance...

It was she who groomed me and made me aware of small but important aspects like my posture...She gave a lot of importance to grace and aesthetics in dance...she even encouraged me to give short introductory speeches before my performances, which gave me the confidence to handle the mike on stage...

Did you adapt to the Vazhovoor style from the Kalakshetra style?
Sarasa teacher never changed my style. She was only particular about executing the movements well. She would also adapt the movements according to each dancer based on suitability. 'Araimandi' the basic stance (half-sit posture) in dance was very important to her. So, without changing my style, she brought out the best in me.

You are one of the top-ranking Bharatanatyam dancers today. Were you ambitious to get to this level?
Actually, after my arangetram I was not really serious about dancing. It was just a hobby. I didn't think about dance so much. There were no ambitions to achieve. Only after my marriage and after having my daughter in 1989, I became really serious. I realized the value of the art I knew only after that period in life. And now, whatever I do, I want to do it with sincerity, dedication and with my heart in it...and that is what has brought me here I think...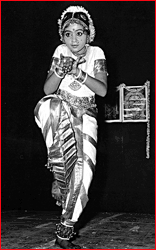 Any people who have inspired you?
I admire almost every dancer I see. Another dancer definitely has something that is not in me. May be it is the execution of a movement or just a smile...By observing and watching others I learn so much more...You can take the good and leave the bad!
Today, I admire the senior dancers much more than before. As you climb the ladder, you find that the ladder is bigger... Now when I perform, travel, teach and manage home, I know that it is not all that easy. And if the seniors have made a mark, they have gone through all this and have come a long way...dancing is indeed a strenuous art...
Dance is expensive as well, isn't it?
To come up, you need a strong background and family support. But today, a lot of sponsorship is also available to encourage the talented.
Have you been lucky in this case?
Yes, I've had God's grace with me. I had the right people coming in at the right time in my life...My family has always been encouraging and I never had problems with my musicians too.
Considering that the art form is expensive today, we see many 'group arangetrams', where the families share the expenses. We also are witness to group dances or dance-dramas. What happens to solo dancing then?
People today want group shows, which have more visual appeal. The group shows also give an exposure to the dancers besides reducing their expenses. My only fear here is whether, in course of time, solos will be taken over by group presentations.
In your solo performances, you are often seen performing intensely the 'margam' than trying 'innovative works'. Does this speak for your devotion to tradition?
'Margam' is definitely a cut above the rest. You can never get bored with it. This traditional format of items, from Alarippu to Thillana has timeless beauty. It has so much variety in it, incorporating the various aspects of Bharatanatyam, be it nrtta (rhythmic movements) or abhinaya (expression of emotions). It is also challenging since a particular emotion, be it 'vatsalyam', 'bhakti' or the 'nayaka-nayika bhava' can be portrayed in various ways by different dancers. It is like Beethoven at any time, it has its value unlike today's Britney Spears. Contemporary themes suit the present times. After ten years, they may not have the same value.
Does Bharatanatyam in its purest form have a future?
Yes. The standard of dancing is quite good these days. Whenever I find time I attend the programmes of the youngsters who perform today and sometimes I'm taken aback when I see them do so well. They are able to grasp and digest any amount of calculation in the 'jatis' and they are able to perform with perfection. With the quality of dance improving, the audience also improves and this classical form will come to stay.
Are you engaged in any dance projects now?
I'm working on some of the items of the traditional repertoire and plan to do something based on the Vaishnavite Philosophy.