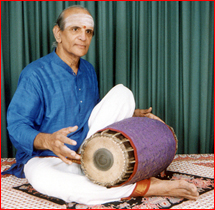 Renowned mridangist Umayalpuram Sivaraman received two prestigious awards last year -'Sangita Kalanidhi' from The Music Academy and 'Sangeetha Kala Sarathy' from Parthasarathy Swami Sabha. Sivaraman trained under four gurus - Arupathi Natesa Iyer, Thanjavur Vaidhyanatha Iyer, Palghat Mani Iyer and Kumbakonam Rangu Iyengar. The mridangist is the Director of the 'Thanjavur Vaidhyanatha Iyer School for Percussion' of The Music Academy and runs his own institution, 'Laya Lavanya' in Mylapore, Madras.

He has accompanied maestros like Ariyakudi Ramanuja Iyengar, Musiri Subramaniya Iyer, Mysore Chowdiah and G.N. Balasubramaniam right upto living legends Semmangudi Srinivasa Srinivasa Iyer, Dr. M. Balamuralikrishna and Madurai N. Krishnan besides collaborating with north Indian counterparts Pt. Ravishankar, Hariprasad Chaurasia and Zakhir Hussain among several others. Widely traveled, the percussionist is a recipient of national awards like Padmashri and Sangeet Natak Akademi award besides the Kalaimamani from the Govt. of Tamil Nadu.

In December 2001, the busy artiste took time off to speak to Aruna. S of KutcheriBuzz on his life and his art.

What do these awards mean to you?
It is a great honour and I owe all my successes to my father, Dr. P. Kasivishwanatha Iyer. He planned everything from me. Even now he says, "Don't be complacent. Work, work...now that you have got this award, go for the next..."

Is your father your best critic?
Yes. Umayalpuram is said to be the seat of Carnatic music and my father who hails from this place is a doctor who also sings, plays the violin and mridangam. Now at 92, he still advises and criticizes me. He has heard the music of several legends in Carnatic music and has a rich experience. You can get anything for money but not wisdom...the kind I see in my father...

Did you have a strict gurukulavasam?
'Gurukulavasam' means 'to be with the Guru'. In those days we spent most of our time with our gurus except school hours. This is similar to a junior lawyer who undergoes apprenticeship under a senior lawyer or the internship in a C.A concern or a medical college. The juniors are sent to perform all the errands from which they learn. From your Guru, you have to learn how he works, how he performs, how he teaches, understand his discipline, the ambience in which he works and everything about him. Some say that they lived with the Guru all the time, but if they didn't learn anything, then the gurukulavasm has no meaning.

Does this system still apply in the music field?
I'm traditional and modern. I take the good things from both. I have an open mind. In those days, there were no universities or colleges, so the disciples stayed with the Guru. Today, the training happens in the modern sense. My students come from various places and do not live with me but they are still spending time with me to learn. It is the intensity of the training that matters and not the number of hours spent with the Guru.

You have trained under four different gurus. Doesn't the style vary from each other?
You learn different things from different gurus. It is like graduating from school to college, obtaining a degree, doctorate and a post doctorate! Knowledge is diverse. Each Guru is illustrious in his own right. You need to tap their energy, intensify your knowledge and have a treasure of the best.

Memories of your arangetram...
My first performance was at the age of ten in 1945. I played for the vocal concert of Srinivasa Iyer of Kumbakonam.

Did you plan to take up only mridangam as your career?
I had my early days of schooling at the Municipal Primary school and Town high school in Kumbakonam and the Kalyanasundaram High School in Thanjavur. After obtaining the B.A degree from the Kumbakonam Government College, I completed my graduation in law from the Madras Law College in 1958. I enrolled for the M.L. course at the Madras University and completed one year. For few months I also prepared for the I.A.S exams.

Did you ever practise as a lawyer?
Very famous lawyers advised me to stick to mridangam since I was meant for this. It included late N. Raghunatha Iyer of The Hindu and late C.K. Venkatanarasimhan who was a secretary of The Music Academy. They said that I would rise to great heights in this profession. And it has become true today.

Your playing is known for its subtlety, what is special about your style?
The aim is approximation to music. It means producing music on mridangam. Though mridangam is a percussion instrument, I always assert that it is a 'naadha vadhya'. You find sweet sounds from both sides of the mridangam. There is none to excel this instrument. You have to tap the greatest potential of the mridangam. While accompanying a musician, you have to imbibe what he sings and reproduce it on the mridangam. This means that you enjoy his recital. The result of this will be a reproduction of 'velvetty' notes from the mridangam. My philosophy has always been to embellish the music and heighten the tempo of a recital by giving full support to the main artiste. The mridangam solo should be rendered in a captivating style, which should attract the rasikas and the scholars. My bani is called as the 'Sivaraman bani' which is deeply rooted in tradition and yet novel which is liked and followed by many upcoming artists and mridangam vidwans.

How important is the 'thani avarthanam' in a recital. Is it planned or spontaneous?
'Thani' should be done on a 'manodharma' basis, taking into account the meaning of the song, the tempo and should be completely packed. Certain portions played during the thani cannot be employed directly in proportion while accompanying the musician. It has a separate identity of its own.

How is mridangam accompaniment for music different from that of dance?
Dance is preset or already choreographed. Except for few pieces, the accompaniment is mostly based on the rhythmic patterns of the dance choreography. In music, there is more freedom to express. Particularly in dance, one has to be careful not to hinder the dancer.

As a maestro, do you still practise?
To reach the top you have to continue practising. Once you reach the top, you have to maintain and retain your name. Unless you progress daily, you become static. Each performance should be better than the previous. There is a lot of expectation that you have to fulfill. While accompanying, you need to establish an immediate rapport on the spot. Be it south Indian, north Indian or western musicians, it has to be instantaneous.

You have been 'innovating' too. What made you introduce the fibre glass mridangam?
Nowadays, we don't get good seasoned wood for mridangam. Hence I decided to create a fibre glass shell instead of a wooden shell. The fibre glass shell has a good tonal production which is no less than the wooden shell.

Is this fibre glass mridangam popularly used?
It has not been marketed on a large scale. But, I do have plans to start a small scale industry to make not only mridangams, but also other percussion instruments.

Tala is to music, what heart beat is to man. Isn't it particularly important for a percussionist?
Yes. In a special series of audio recording, 'The drums of India', I used a Roland rhyth box, which maintained the tala. The rhythm was set to Adi tala and I played continously for one hour. It was a fight between man and machine. And Sivaraman became one with the machine. It was the first time, that a classical percussionist used a rhythm box for rendering the mridangam solo.

As a percussionist, any favourites among talas?
Every tala and raga offers the same opportunities. You should have the required scholarship to exhibit your talent. As an accompanist, you should have a wide range of repertoire and expression in playing. A mridangist should be able to express what he thinks, given any tala.

Your playing for the film, 'Mridanga Chakravarthy' was a hit. Would you love playing for movies again?
Yes. The veteran actor Shivaji Ganesan, producer Kalaignanam, music director M.S. Viswanathan and director Shankar chose me to play for this film. It was a great experience and the entire film industry had a lot of appreciation for this. And yes, I'd love to play for such movies in future. Cinema is powerful medium to propagate the art of mridangam. It reaches a lot of people.

What has music taught you?
Music has helped me in several ways. It has shaped me, my emotions, my inner feelings and reduces my hypertension. With music I'm happy that I not only enjoy myself but also share my joy with the rasikas. Music elevates your soul. When I come home from a concert, I feel relaxed. The dynamo of happiness is charged...and I feel at peace. God has been kind to me in making me a musician.

Are you deeply religious?
There is a great feeling after a pooja. You are concentrating completely on the Almighty. When you tap the greatest energy, the vibrations flow into you and you fill up your own body with spiritual power, which gives all that you need for life.

What do you wish to tell the youngsters in Carnatic music today?There is a lot of young talent today. My piece of advice: Please don't take this as a hobby. Take it as an education. Pursue music with dedication and sincerity. Definitely, hard work will pay great dividends. In today's hi-tech society, there is a lot of scope for youngsters to attain name and fame in Carnatic music. When opportunities are plenty, make the best use of them.

Any upcoming projects?
After the season, I'm planning a video presentation on the art of mridangam playing.