Trichur V. Ramachandran, one of the prime disciples of the legendary G. N. Balasubramanian, began his career in music at the age of 14 with his performance at a temple in Trichur, Kerala.
Ramachandran who gave up a seat in medical college to pursue his passion for Carnatic music has developed his own style over the years, even though he still sounds exactly like his guru. His LP album of 'Narayaneeyam' the sacred verses on Lord Krishna by Narayana Bhattadri are well known among the rasikas.
Recently, well-wishers and fans celebrated his fifty years in music.
In an interview with Revathi R. of KutcheriBuzz, Ramachandran shares his memories with his guru, the concerts of vidwans of yesteryears, life in his hometown and his early days in Madras, the city of music.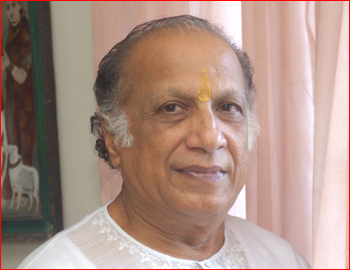 When you started learning music what was the scene in Kerala?
At home, my mother used to sing very well. My sister was also learning music at that time. Unlike Thanjavur and Madras, women were not performing much on stage in Kerala. So her music was within the home. But I inherited the art from my mother. Seeing my interest in music, my maternal grandfather insisted that I learnt music properly. I came under Varkala Subramanya Bhagavathar for initial training. In those days, around us, it was mostly classical music. Even in films. In fact, Tamil film music had a great impact on me.

So you watched Tamil movies in Trichur?


Trichur cinemas screened only Tamil movies at that time. Malayalam movies were produced much later. I have heard M. S. Subbulakshmi, D. K. Pattammal. GNB, Dhandapani Desikar, Thyagaraja Bhagavathar and P. U. Chinnapa. All actors were good musicians. And we had composers like Papanasam Sivan. I was much inspired by film music. I used to listen to radio programmes. The Ragam Tanam Pallavi programme broadcast every Thursday was my favourite. Listening to good music enhances the value of your learning.

Were there live classical concerts?
All the temple festivals in Trichur had regular concerts which used to last for more than six hours. Concerts used to start as late as nine at night and go beyond 3 am. Whenever a festival was held for a week and beyond, vidwans used to stay all the ten days and used to listen to each other's concert.
Nadaswaram concerts used to be held overnight. And people used to sit through the whole night. Semmangudi (Srinivasier) used to say that raga alapana should be learnt from nadaswaram concerts. Senior vidwans used to listen to nadaswaram performances. Off the concert dais, we heard musicians sing in their own mood. Instrumentalists like Karaikudi Sambasiva Iyer and Budalur Krishnamurthy Sastrigal could sing very well. I have even heard the concerts of veteran vocalist Palghat Rama Bhagavathar in my boyhood.

How did you come to G. N. Balasubramanian?
After my initial training, I came under senior vidwan Tirupunithura Krishna Iyer, who was a graduate from Annamalai University. He had shaped my talent and I bagged many prizes in music competitions and had started giving a few performances too. But it was during a wedding at our family doctor's place that I happened to listen to GNB and was impressed a lot. I felt that I should learn from such a great musician. My mother then brought me to Madras and asked GNB sir - if her son has any talent could he teach him music! GNB, after listening to a kriti, asked me to come for music classes from the next day. By then I had joined a course in medicine in Kerala. Getting a seat in medical college was very difficult, but getting a guru like GNB was more difficult, I felt. So I shifted to Madras.

You shifted to Madras to learn music. Many other musicians also shifted from Kerala. Why was it so?
Some shifted for advanced learning. Some others shifted for more opportunities. Musicians like Chembai Vaidyanatha Bhagavathar, K. V. Narayanaswamy, M. D. Ramanathan came to Tamil Nadu. Kerala did not have many sabhas and other organisations to host music concerts. Even now, Kerala is famous for concerts related to temple festivals.

How did you find the city of Madras?
I came out of my native town for the first when I came under GNB. I found a room at Chengazhuneer Pillaiyar Koil Street, off Kutchery Road in Mylapore. Bachelors were not offered rooms in those days. I wanted to stay in Mylapore, to be near my guru's place. It was with great difficulty that I could find a room. That building has been demolished!

Tell us about your days in Mylapore. . .
Mylapore was culturally very active. We had Mylapore Fine Arts, Music Academy, Rasika Ranjani Sabha, all hosting music programmes. Concerts at Sri Kapali Temple used to draw larger crowd than the concerts at sabhas. Concerts used to start at 7pm and go on as long as the musician could perform and the rasikas could sit. No restriction on time. To have a glimpse of the artiste, people used to sit on adjacent trees and walls. Even performing musicians used to sit on the floor at the temple and listen to other artistes.
GNB was living on Palace Road in Santhome. And you know, Chembai Bhagavathar stayed in the same compound.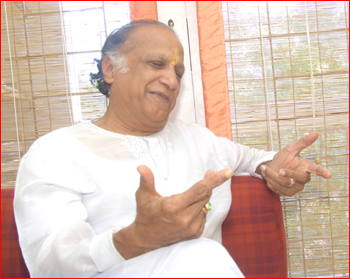 Tell us about your learning sessions with GNB?
Usually the music class started at 6.30 in the morning and went on for about an hour. The rest of the day was meant for practice. Only if we memorised and learnt the previous day's lesson, GNB used to go to the next item. He used to say that music is all about the effect of sound. He used to emphasise on how to open the mouth while singing, how to produce the sound and the importance of diction while rendering the kritis. One would just sit for hours and listen to GNB talking about music.
Accompanying him at his concerts were learning sessions too. He used to sing differently in each concert. He was a genius by himself but considered Ariyakudi Ramanuja Iyengar as his 'manaseeka guru'.
You used to provide vocal support to GNB. So did your music sound similar to his?
First of all, GNB did not require any vocal support for his concerts. He had the stamina and capacity to perform solo concerts till his last days. He took me with him to provide me the concert experience. He learnt many new songs even after becoming popular.



He used to set music to kritis very beautifully, without any unnecessary sangatis. He was an artiste of a rare kind! GNB's concerts never used to be the same as he planned for the day. There used to be many requests from the rasikas and the concerts would turn out to be completely different from the plans. Sometimes he himself used to decide and change the item on the spot.
Who were your 'classmates' with GNB at that time?
Someswara Babu was another student. When I went to GNB, his senior disciples S. Kalyanaraman and M. L. Vasanthakumari were already popular musicians. But they still used to come to him occasionally and take advise from him. GNB also used to listen to MLV's concerts whenever time permitted. I shifted to MLV after the demise of GNB.
How did you find MLV's method of teaching?
I came to her under a Govt. of India scholarship, to continue my training under the same GNB school. MLV was a large hearted person. She had a lot of information to share with her students. She was exactly like our guru in teaching and also in her kindness to the sishyas. I was the only male student of MLV! She was teaching many girls. Charumathy, my wife, was learning from her then.
So you met you wife there?
One of my friends suggested the alliance. For my wedding, there were six concerts. T. N. Krishnan and M. Chandrasekaran played a violin duet. MLV, Semmangudi, Maharajapuram Santhanam and 'Veena' S. Balachander 's concerts were there! MS and DKP sang 'Oonjal' at the wedding. Maharajapuram Santhanam and I were mutual admirers and we even performed together in about six concerts in Madras and Bombay. Those were the days when musicians learnt from each other.
Did you learn from other musicians too?
I still learn from many good musicians. For a Dikshitar kriti in Hamir Kalyani, I searched for the authentic version for about five years and learnt from the veteran Sandhyavandanam Srinivasa Rao. You will find treasures of the art in many. T. K. Govinda Rao and S. Rajam to mention a few. I have even learnt from D. K. Jayaraman.
Do you teach music now?
I teach music to very few students. I find this generation extremely talented. But the talent has to be streamlined. There is hurriedness in learning and performance. And no patience till your guru gives you the green signal to give public performances. The students also keep changing the gurus, which will not help them to master a particular style. Listening to good, fellow-musicians has drastically come down. My guru, even when he was performing at his peak, had accompanied Maharajapuram Viswanatha Iyer on tambura, just for the sake of listening closely to the vidwan. GNB used to repeatedly say that he was only a vidyarthi (student) and not a vidwan (scholar). Humility alone will help you learn more and more and become a successful musican.
I have seen my gurus GNB and MLV doing a lot of homework for each of their concerts. The hall used to get filled with music once the first item was performed on the stage. I find this aspect missing in most of the concerts of today. Semmangudi used to keep aligning the tambura sruti from early morning for an evening concert. Palghat Mani Iyer used to keep his mridangam set to sruti for the whole day and still look for a perfect matching of the sruti in the evening concert. Such a dedication to the performance is absolutely necessary. If one realises his own strengths and weaknesses and try to improve under the guidance of a guru, today's generation can do wonders.