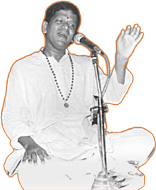 Neyveli Santhanagopalan is one of the younger musicians who comes across as being not so young! By way of his traditional approach to music and of course his looks - with his panchagacham and namam!

But this 37 year old has been acknowledged as one of the most talented singers around, though his ardent rasikas still feel he is not quite pushing himself to do all he really is capable of. But he is getting there, slowly, thinking his way through his own growth in music.

Santhanagopalan is this year's recipient of the Vani Kala Sudhakara of the Sri Thyaga Brahma Gana Sabha - the first time that the sabha is actually giving a birudu though the cash award has been around for a few years.

He spoke to KutcheriBuzz at length about his music and how he relates to it.

What expectations do you have of the season?
Romba naala aasai..... I want to convey to the audience what I enjoy in the lyrical beauty of our Carnatic music compositions. I have been wondering and working out the best way in which I can convey it.

Carnatic music is not for entertainment. Neither did the Trinity compose for kutcheris.

Their work was a pure overflow of the emotion of Bhakthi. And if a singer like MS reached the heights of popularity and fame it was because she understood and conveyed the mood of the sahitya of all the songs we sing. This is what happened with D. K. Jayaraman and D. K. Pattammal too.

I want to be able to convey this to my listeners and share it. I don't want to talk and talk about it before a song!! And make it like an upanyasam -but I want to be able to sing, say, one repetition in a neraval, in Tamil for instance to bring out the meaning - just the essence of it - at the very heart of a beautiful composition.

I did this 2 years ago and there was a bit of a mixed reaction.

I plan to do this at all kutcheris this year - let us see how it is received.

What is it you like to do in a kutcheri, and why is it that people feel you are not pushing to reach your full potential?
I like the audience to stand up and say "Sing this song, or sing this raga." Then I feel enthused and challenged, and will go ahead and do it!!

Otherwise when I choose the items I have a lot of things on my mind and pleasing a lot of the audience plays a prominent part - it is difficult to take a risk because you want everyone to enjoy your music after all, to enjoy the performance.

Also there are a bunch of critics who are waiting for us and they watch not only how you sing but what you choose to sing! In fact in places like Delhi and Bombay I sing without a care since there is no one sitting there with a notebook!

What is the position you see for Carnatic music in the perception of the people?
Let us be frank. No one knows Indian music as Carnatic music - Hindustani music is far better known. And Hindustani music exponents also do not accept Carnatic music as true classical music as it does not fall into their 'purist' framework of raga elaboration. And our gamakas are a sore point - they just don't accept it!

I think one needs some age and experience to appreciate the depth of Carnatic music... And there is a lot to be done to take this music to the world still.

You have not strayed much out of the traditional format until now, how is it you took part in a fusion event in Brussels recently?
Oh, yes. I did it after a lot of persuasion and assurances by Umayalpuram Sivaraman. He said he would not put me in a position to compromise my music, and so I finally gave in!

This was a fusion concert at the Brussels' Theatre de la Mornay. There were Spanish drummers, saxophonists and bass guitarists. It started more as a musical dialogue.

Suddenly, Fabricio, the Belgian saxophonist, challenged me on the stage with some complicated phrases! After a split second of dread I found that the reply to that just flowed from me. It was pure joy - when subconsciously your training and instinct come together!

I had spent a lot of time with them explaining that ragas were more than just scales but that they had a swaroopa of their own....Umayalpuram told them about the Melakarta scheme....

They caught on to the mood quickly and it was this that translated into the challenge and reply on the stage later. In fact when we had the earlier interaction they understood things so well that they quickly caught on to even vivadhi ragas which are normally tricky to handle as swaras in these ragas occur in abnormal closeness in frequency.

And if they caught the concept so well without training, I marvel at what they will be able to do with training! This was a good opportunity to popularise our music.

And what did you learn from the experience?
I learnt a lot. I was intrigued by the overlap between different systems of music. There are elements of Carnatic music in Flamenco music - and there are many talented improvisers in other musical disciplines...

A couple of the jazz musicians are going to visit India and stay with me to learn swara singing in February next year. And teaching them is something I am going to enjoy!!