Carnatic vocalists Ranjani and Gayathri are among the top artistes in the Carnatic music scene today. The duo received an award from the Shanmukhananda Sangeetha Sabha, Mumbai, early this month and the Kalki Krishnamurthy award in September this year.And the good news is that Gayathri (younger of the duo) will be getting married in February 2005.
Recently, the sisters spoke to Aruna. S of KutcheriBuzz.

You started your training in music very early. How did you take to violin?
Ranjani: Our father was a violinist and we started our formal training under our father's guru T.S. Krishnaswami in Bombay, where we were born and brought up. He had this principle of not taking students below 12 years old. And the student should have had a strong foundation in vocal music according to him. And when we went, he asked me to sing and then accepted me. It was an exception. And Gayathri was asked to come along too. She used to even identify ragas as a two-year old.

Gayathri: And once we started, it was a rigorous training. Our guru was a perfectionist. Music was not just something we learnt during the course of the day or during the week..it was a way of life. Our parents were so passionate about music and we were literally fed with music.

Ranjani: From morning to night, we would hear only Carnatic music at home. And we realised that a path was set for us. It was not something we learnt on the way, but something we were already immersed in...When I was 12 and Gayathri was nine we started giving performances in violin.

What about your formal education?
Ranjani: Though we started performing early, we had a happy school life too. And I graduated in Commerce in Bombay.

Gayathri: I did my junior college in Bombay and then when we shifted to Madras I took up English literature.

How important is the training in vocal for an instrumentalist?
Gayathri: It is a necessity. The base of Carnatic music is the vocal system. Vocal training is the foundation. And learning vocal also helps you to emote better.

Ranjani: This is the speciality of Carnatic music. There is no separate stream called instrumental music. In Hindusthani, there is a separate style of playing instrumental music. And even in Western music, we have the symphony music. But, as far as Carnatic music is concerned, vocal music is the ultimate.

Gayathri: And next would be any instrument that is closest to vocal, and is able to bring out the nuances of vocal music.

Ranjani: So the closer you are able to bring out the intonation and the vocal feel, the better you are as an instrumentalist. So it is imperative that we know vocal music. Our violin guru made us sing first before we played a song on the violin.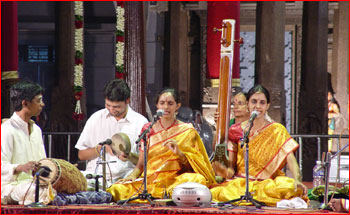 When and how did you switch to vocal music?
Gayathri: It was actually strange when we started focussing on vocal. When we moved to Madras in 1993, we went to P.S. Narayanaswamy sir to learn more krithis. We wanted to give a more vocal feel to our violin playing. But this turned out to be a turning point. He made us sing first. And I remember, the first song we sang before him was 'Elanidayaradha...' in Atana. He was surprised to hear two violinists sing. He said we had such good voices and that we could give kutcheris.
We didn't take it so seriously. We were actually busy as violinists, we had concerts lined up and we didn't really focus on vocal. One fine day, our guru said that he is fixing up a vocal concert for us. It was in 1997 and he had organised it at Nadopasana at Shastri Hall. It was a tough place to start.
My father is a perfectionist and he felt that our first concert shouldn't be at Mylapore, where people will judge you. So we gave a concert at Nanganallur for NSTSS. It was a surprise for us. It didn't seem like a big effort and it happened naturally. And from then on we started singing regularly.
Slowly, we didn't want to take up too many things. And the decision came in Jan 2000, from when we didn't take up violin accompaniment and started focussing on vocal.
It all came together in one concert at TTD in T. Nagar. There was a huge crowd, and that concert really clicked and it gave us the break in our vocal career. This concert gave us the confidence to go on and focus on vocal. It made us feel that this is the path for us.
Between violin and vocal what would you choose?
Ranjani: Right now, vocal.
Gayathri: We also have a special place for violin. It was our first love. But right now, our passion is vocal.
How do you plan a concert?
Gayathri: We plan a concert according to the occasion and the audience. We sing together and individually too. We have our own strengths and unique identities. The dual approach meets. Ranjani's music is very sober, down to earth and profound with less frills and non-dramatic.
Ranjani: Gayathri's music is flamboyant. Her voice has a lovely range. I admire her style of singing.
Gayathri: For example, if we take up a raga, Ranjani lays the foundation and I take up from the higher note. And we also give space for each other's spontaneity. There is the synchronisation plus each other's freedom.
Of course, backstage, we do have our fights too! We agree to disagree and we agree to agree too! But as far as music is concerned, we have a rapport.
Do you always sing together?
Gayathri: Now, its almost a brand name 'Ranjani-Gayathri'. We will be incomplete without each other.
You seem to have specialised in Abhangs?
Gayathri: These days, there is a craze for abhangs. Though it is not part of the carnatic repertoire, it has slowly become one, just like bhajans.
Ranjani:Earlier, it was MS amma who brought in bhajans in her concerts.
Gayathri: Though bhajans and abhangs are not classical, they have the devotional flavour. We wanted to learn abhangs from an authentic source. We went to Kolhapur and trained under Appasahib Deshpande.
Any unusual experiences?
Gayathri: Once we missed a flight. We had to fly from Washington D.C to Houston. We had a concert on Saturday evening and we had to take the flight the next morning. There was a mix up in the ticket info and we landed in the wrong queue at the airport and were delayed. It was a nightmare.
Ranjani: Once at a concert at Bharatia Vidya Bhavan, Swamiji Vithamma requested us to sing a song and was pleased with us and gifted us a gold bangle. On another occasion, a senior violinist, Dhanalakshmi heard us play the violin on radio and presented her violin to us.
You can listen to the sisters on:
Dec. 24 - The Music Academy, Dec. 26, 9.30 am - Krishna GAna Sabha, Dec. 29, 7 pm - R.R. Sabha,
Dec.30, 5 pm - Indian Fine. Arts, Dec. 31, 6 pm - Mylapore Fine Arts.
You can write to them at E-mail: ranjanigayathri@yahoo.com