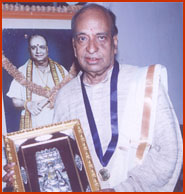 Ramani was looking forward to this season. Not just because of the music - his son was coming back from a five year stint in the Singapore Indian Fine Art Society where he has been teaching.

"It will be good to have him back here," said Ramani. And even better to keep an eye on the development of his grandson Athulkumar. "People are asking for his kutcheris.... he is very good, but needs to develop further before he becomes ready for performing alone," he said.

Just before the start of the kutcheri season he spoke at leisure to KutcheriBuzz about music and its world. Excerpts:

What are you planning as this season's special?
The three of us are performing together mostly. We have three such concerts. There is also a duet with my son.

For the Madras season I try to play rarer ragas that are challenging. I will be trying out a new technique I have been developing. For instance if I am trying to play across two octaves from sa to sa this technique will help me do that easily on the flute like you can do it without a break in vocal music and on the violin for instance.

This continuity can be got by a combination of blowing and fingering - watch out for it in my season kutcheris!

What do you consider your best concert?
I am 66, and my strongest feeling is that I still have not done my best. I can still do better. But my most memorable concert was in 1992 near New York.

It was at a temple and in the space of three days we performed in Detroit flew across the country to Los Angeles to perform there and then back again to the East Coast to New York. The jet lag was terrible and it was a cold night. But the audience was so wonderful that I can never forget that concert.

Then there was the overflow crowd at the Theatre de la Ville in Paris in 1998. I played Thodi ragam and the audience was spellbound.

What is your favourite raga?
There is no such thing. Different ragas are favourites at different times. I prefer the rarer ragas, it depends on my moods. Some ragas keep coming back to my mind and I remember what others did with it. And when I keep teaching various ragas I get inspired since their possibilities start becoming clearer and clearer and I get inspired.

Now my favourites are Mohanam, Bindumalini and Kapi.

What do you think of Jugalbandhis and fusion music?
I have done a bit of this. My feeling is that Western audiences like only traditional Carnatic music and not fusion. Fusion is liked here.

What are your most memorable moments with Mali, your guru?
I had become popular even Mali was still performing and even got the Sangeet Natak Akademi award and the Padmashri. When these happened, he personally called to congratulate me. This was something unforgettable.

Where do you like to perform?
I have performed in almost all parts of the world. But I like Europe best though I go to the US most often and most of my students are there.