Senior mridangist Vellore Ramabhadran receives the 'Sangita Kalanidhi' award from The Music Academy this year. He will be honoured at the Sadas on January 4, 2005.

Born in 1929, Ramabhadran trained under his father Konakkal Gopalachariar. Over the years, he accompanied stalwarts of the past like Chembai Vaidhyanatah Bhagavathar, Ariyakudi Ramanuja Iyengar, Madurai Mani Iyer, Musiri Subramania Iyer and Semmangudi to present day musicians like Mandolin Srinivas, Vijay Siva and T.M. Krishna.

He spoke to Aruna. S of KutcheriBuzz, just an hour before his kutcheri on Tuesday (Dec. 28), at his heritage house that overlooks the Chitrakulam tank in Mylapore, Chennai.

What does it feel to receive the Sangita Kalandhi this year?
This year will be unforgettable in the history of The Music Academy, because, the festival is being hosted after a lot of controversy. It is being hosted after the Madras High Court's permission. So, people will always remember me as the President of the music conference this year.

Can you recall your early years at Vellore?
My father used to run the Vellore Sangeetha Sabha in Vellore. He and his friends wanted to have some activities in music in Vellore and so they started this sabha. Great musicians of yester-years were invited to perform. And it was he who started giving awards in those days. For the first time, in 1936, the title of 'Sangitha Ratnakara' was conferred on Ariyakudi Ramanuja Iyengar. Competitions used to be conducted for children and prizes were given by great musicians like Naina Pillai, Palghat Mani Iyer and Dakshinamurthy Pillai. I used to be seven years old then.

At that time, Tamil Nadu and Karnataka and the other states were not bifurcated. A national leader Sathyamurthy was a friend of my father, who also supported him and the sabha had its own building. I remember MS singing at our sabha in 1936, her brother Shakthivel played the mridangam and mother Shanmukhavadivu played the veena.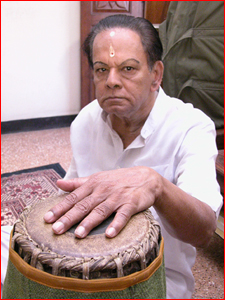 How did you take to mridangam?
My father was my guru. I started when I was 8. I used to keep listening to concerts and took to mridangam slowly. My first concert was for Madurai Mani Iyer in 1941 at Madras. It was at Jaganatha Sangeetha Sabha in Madras. Later I accompanied Ariyakudi, Chowdiah and other senior vidwans.
You've also trained in vocal?
My guru was Thiruparkadal Srinivasa Iyengar. In 1942, during the second world war, when there was an evacuation in Madras, he and his family came to Vellore and I trained from him. My father used to sing too and he taught me too.
Your school days...
I studied at the Thirumala Tirupathi Devasthanam's school in Vellore, till SSLC. I used to keep tapping my fingers on the backs of the school boys or on boxes!
When did you move to Madras?
In 1950. We moved to Mylapore here, to pursue arts.
What is your technique of mridangam playing for music concerts?
According to me, mridangam should be played for vocal and not vocal for mridangam. This is an accompanying instrument. Thani should be played for a few avarthanams. We should maintain our limits, be it vocal, fiddle or mridangam. We should leave the audience wanting for more.
You are popularly known as 'Sarvalaghu' Ramabhadran. Why?
'Sarvalaghu' is the rhythm of life. You see it in every activity - the way we walk, talk, dress and hold ourselves. I'm sought after because I play without disturbing the main artiste. And that is because I maintain the sarvalaghu rhythm, without indulging in too many calculations. Maintaining the 'Sarvalaghu' is not an easy task too.
In January 2005, a rasika of mine, D. B. Subramniam who worked with WHO, is bringing out a DVD on mridangam, titled 'Sarvalaghu'. I have played for this album.
It is said that mridangists of yester-years did not accompany female musicians. And some of them still don't. What about you?
It is not as though we don't want to play for women, but its just that it has been a practice in those days and it has come to stay. But even in those days, Palghat Mani Iyer has played for Pattammal and MLV. It is not wrong to play, it is just that it didn't happen.
As for me, if I accept to play for one, I have to play for others too. We never know, what will happen. I may land up playing in the future!
What was the kutcheri scene in those days?
There were very few sabhas in those days. R.R. Sabha was one of the early sabhas, which had its kutcheris at Sundareswarar Street, Mylapore. Academy used to host its concerts at P.S. High school. Later, a lot of sabhas mushroomed and arts have grown over the years.
Have you performed at temples too?
While acompanying Madurai Mani Iyer, there is no temple that we've not gone. Thousands of people would listen. It is a unique experience to play before the God. We shouldn't always perform for money. This is an art. It is not a business, where we invest money and expect returns. We're doing it out of passion.
Any unusual concerts?
I played for Dandapani Desikar's concert in 1948 at the Palayamkottai Jail. It was a different experience.
What is the difference you see between the musicians of yester-years and today?
It is all a matter of experience. Youngsters perform very well these days and music is in safe hands today.
Your favorite musicians?
This is a controversial question! I like anybody who sings well. I try to give my best, be it youngsters or seniors. It is our duty to support in a music concert.
What do you think about mridangam playing for dance?
There are artistes who accompany for dance and we should leave it to them. Similarly it may be difficult for those who accompany for dance to play for music concerts.
We can always try something, but it will only be for the sake of trying. These days, people even play mridangam for fashion shows!
So, you probably wouldn't want to play in fusion concerts?
Not really. I've played along with Hindusthani musicians like Zakir Hussain, Alla Rakha, Amjad Ali Khan, Hariprasad Chaurasia.
You must have travelled abroad?
It was in 1962, that I first toured the U.S. Alongwith Veena S. Balachandar and Flute Ramani. Coast to coast, 30 concerts. Asia Society in New York invited us and we had to play at the various Universities. From then on I've been regularly travelling abroad for kutcheris. In 2005, I've been invited for the Cleveland Thyagaraja Aradhana.
Is the audience there interested in our arts?
There is an interest. But, I wish oganisations there networked together. There is a competition between the. For example, Karnataka associations invite artistes from Karnataka and so do Tamil Sangams and Kerala associations who invite artistes from their states here. It is split. Whereas, North Indians are more united there.
Any unusual experiences there?
Sometimes, there have been problems with the connecting flights. The mridangam would come in the next flight and would be delayed. And, the concert would be held the next day! This happens to several other artistes when they tour abroad.
Is there a special moment you treasure?
In 1975 at Krishna Gana Sabha, the 'Sangeetha Choodamani' title was conferred on me by Palghat Mani Iyer. He was a doyen. It was a big honour for me to receive this award from him. It is an unforgettable experience.
You've been performing for so many years, have you ever got bored playing over and over again?
Never. Only when there are no concerts, I get bored.
How do you keep yourself going?
I don't get lazy. And when the musicians sing well and when rasikas enjoy and cheer us, it gives us a boost and makes us feel happy.
What is involved in maintaining a mridangam?
Earlier, we used to get a mridangam for Rs. 200, now its Rs. 10,000 to Rs.12,000. You should safeguard it from ants. Chemicals are available these days, that can be sprayed around. Atleast once in two years, you should re-structure the instrument. Now you get readymade bags to carry them. Earlier we used to wrap it up in a thick cloth.
Who repairs your mridangam?
I give it to Varadan at Mathala Narayana Street, Mylapore. Previously, his father used to repair.
Have you played for films?
I've played for the film 'Sindhu Bhairavi' directed by K. Balachandar. I accompanied Yesudas in the song 'Mari mari ninne'. In the film it is actor Sivakumar who is the singer accompanied by Delhi Ganesh on mridangam.
Ganesh has a sense of music and he acted well as a mridangist. Later, I did get more offers for films, but decided to opt out. I had to focus on my kutcheris.
Do you train students?
I take up advanced level students. There are many schools that train beginners. Once their initial training is over, I train them to play for kutcheris.
You seem to draw your eyebrows! Is that to pamper yourself?
It is just to look presentable on stage. First impression should be the best!