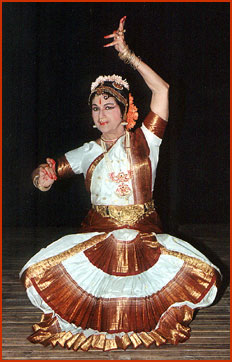 She literally took Bharathanatyam to the silver screen, and still brings a misty eyed look to the eye of the rasika.

'Kottu Murase' you can hear them think, 'Naadhar mudi mel irukkum nagapaambe.' And she is still the sprightly, beautiful 'Kumari' Kamala to them.

Now Kamala Lakshminarayan, the dancer lives in the New York. She was in Madras recently to give a fund raising Bharatanatyam performance in aid of Kidney Help Trust here. The programme was organised by Madras Well Wisherrs at Bharatiya Vidya Bhavan, Mylapore, and an amount of Rs. 10,000/- was collected after the show.

Kamala belongs to the Vazhuvoorar style and was a disciple of Kattumannar Kovil Muthukumarappa Pillai in Bharathanatyam. She started learning Kathak when she was 5 years old at Bombay. Later she shone as a Bharathanatyam artiste, whose dance sequences in Tamil films like 'Naam Iruvar', were a vehicle for patriotic messages during the freedom struggle.

In an openhearted conversation with KutcheriBuzz, Kamala reminisced about some of her experiences, both bitter and nice and shared her dreams.

How is life at the US for a dancer of your stature?
It's very hard. I travel 500 miles every week, between Wednesday and Sunday to give classes - in Long Island, in New Jersey. I train students and choreograph dance-dramas at my school, Shree Bharatakamalalaya in New Jersey. Some students are very promising and some are so-so. A couple of them can even do the snake dance that I performed during my younger days!

Do you also teach your students the songs you danced to in the films?
Yes, I teach them 'Aduvome', 'Kottu murase..', 'Nadhar mudi mel..' and 'Theeradha vilayattu', which was my favourite. It is very interesting to see them perform these.

Are you working on any new projects?
Well, I plan to make a movie. The story and the script are ready, but I need a dialogue writer, good director, technicians and a producer for financial assistance.

Have you already started approaching people?
Yes, I have. But, it is unfortunate that people now have a 'couldn't care less' attitude. A big studio like AVM, which made millions from my dance, has refused my offer. It is very hurting.

Why not try in the US?
It is difficult because the technicians there are very expensive. Besides they won't understand our concept.

So, do you plan to take the entire film unit from here?
Yes. If artistes and technicians from anywhere in South India are interested, I am keen on them.

Is it a dance-based movie?
Yes it is. It is a fiction with instances drawn from my own life experiences. I have visualised the basic structure already. It has a powerful story and has truth in it.

Do you plan to act in the film as well?
No way. It will only have youngsters. I would like to use some of my students who are very pretty and are good dancers. I will direct the dance sequences anyway.

Any new dance dramas?
There are, but it's a secret. Once I reveal the theme, someone else does it before me. Boom! The ad will appear just before the show and the rest will say "Oh, we should have thought about."

What are the differences you see in India between then and now?
The India that I have seen in the 50s was very different. People were like gold, gems. They were kind-hearted and more patriotic. Now Independence has no meaning. I think Indians will come together only when there is a foe. I wish people today were more honest, appreciative and truthful

What are your impressions of the dance scenario today?
Today, almost everyone is a dancer. Good looks and difficult movements don't matter. Some of them are very rich. They can pay the sabha, the orchestra and afford about anything. Today, the audience comes and says, " Okay, she's doing something". It's not like those days, when people remembered specific moments from a performance.

We worked very hard and we set an example which is very difficult to follow now. The 45 minute varnam has been reduced to 15 minutes owing to lack of time and talent.

As an artiste who popularised the art of Bharathanatyam through films, you could have stayed in India.
Well, I never imagined I would go to a foreign country and settle there. The trouble started in 70's when younger dancers started advertising themselves and grabbed performances for lower rates. The sabhas thought I was too expensive. Today, it's still worse where youngsters pay the sabhas for opportunities.

Is that what took you abroad?
In 1980, I had some problems and I just wanted to get away from Madras. I didn't get the respect, affection and encouragement from my own family.

You found some support at the US?
They were in need of dance teachers and so very soon I had both American and Indian students coming to my school.

Does our art and culture find a place in the US?
Americans appreciate Indian art and the way Indians carry themselves there. People are fond of Indian classical music which they think is very soothing. They also like Kathak because of the fast paced 'bols' and the effects from the tabla. There is an audience for Indian music and dance.

As a very senior artiste do you have any advice to share with the younger generation?
I have nothing to say! World just goes on as it is. I'm now only interested in my movie!

When is your next visit to India?
Probably same time next year.

Kamala Lakshminarayan lives with her only son Jainand Narayan, who is a Helicopter Maintenance Supply Officer, with the U.S. Army.
Her class schedules:
Wednesday : Long Island
Thursday, Saturday: Summit, New Jersey
Friday: Princeton, New Jersey
Sunday: Westchester, New Jersey

She lives at No. 41, Pent Moor Drive, Mastic, NY-11950. E-mail: jainand@aol.com

Her Chennai address: No. 31, Poes Garden, Chennai - 18. Phone 0091-44-499 2185.
Contact Person: Vasundhara, Phone: 0091-44-493 3059.

- By Aruna S.