Madras based dancing-duo Radhika Shurajit and Shobana Balchandra were on a performance tour of South America recently. Sponsored by the ICCR, the sisters performed at the World Music and Dance festival at Bogota. In this column, Radhika Shurajit, shares their experiences...

We were thrilled and happy, when ICCR (Indian Council for Cultural Relations) informed us that they were sending us to perform at South America during August,2003. We were to represent our country at the First World Music and Dance Festival at Bogota (Columbia).

We grabbed the atlas and maps and started looking out for the places that we would be visiting like Bogota (Columbia), Santa Cruz (Bulevia) and Lima (Peru).

We hardly had two weeks time and it was hectic. Planning rehearsals, yellow-fever injections and bags to be packed for the trip.

We had with us, Neela Sukanya ( nattuvangam,), Jayanthi Mohan (vocal), Shakthivel (mridangam), and T.K. Padmanabhan (violin) accompanying us on this cultural trip.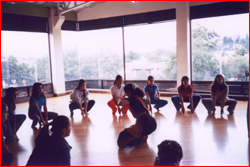 Shobana conducts a master class
We had no clue about the people or the places we were visiting and people kept warning us about heavy drug trafficking in these countries. Since we were to travel on Government diplomatic passports, we were not frightened and we were sure that we would be taken care of.
With lot of excitement, we boarded our flights on 2 August, 2003. At New Delhi we had Sri. Pandit Kirit Khan (sitar player) and his music group joining us. We were the only two groups from India to participate at this international event.
The flight journey lasted for almost 2 days and we had to do a lot of hopping - from Delhi-Paris-Caracus-Bogota with waiting at each place for over 5 hours. We were exhausted when we reached Caracus. Our group was split into three and each group had to take a different route to reach our final destination - Bogota.
My sister-dancer Shobana and our singer Jayanthi had to go to Aruba and then catch a connection to Bogota. Because of delayed flights, they missed their connections and got stuck at Aruba for a day. We were worried and to add to the problems, our baggage did not arrive and so tension was mounting. But soon everything was sorted out and the whole tour turned out to be a very successful and enjoyable one.
Bogota, is the capital of Columbia and 10 countries were participating at the International festival. The city is 2600 metres above sea level and the weather was very pleasant. We were staying at a very big international hotel - Tequendama.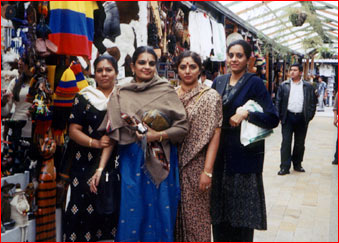 At the handicrafts fair in Santa Cruz
It was a beautiful experience staying there and we were constantly bumping into artistes from all the countries. We were constantly exchanging and sharing ideas with artistes.
We gave the inaugural performance at the international festival held at Theatre Jorge Eliecer Gaitan. The theatre was packed with over 4000 people with all the VIPíS and diplomats present there. Our show was a tremendous success, which had standing ovation from people.
Later, during the week we performed at Plaza de Bollivar, where we shared the stage with the artistes from various countries. This plaza was right in front of the Presidentís house, next to Mayorsí Office surrounded by the Congress and Republic buildings.
Every day we had dance lectures and workshops at Universities and colleges, where we interacted with theatre artistes, television people, dancers, musicians, artistes and students.
We had an excellent translator and guide with us. Our programmes were a great success and the people appreciated our work. We were totally moved by their warmth and hospitality. In fact the Indian Ambassdor liked our performance very much and had a special dinner arranged at her residence. Even in the hotel, the chefs went out of their way to make rice, vegetable curries, soups and even gave us yogurt.
Bogota is known for its exotic flowers, birds and the largest number of lakes. There are over 50 languages in these countries, but the main language spoken is Spanish.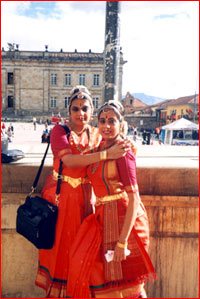 At Plaza Bollivar in Bogota
We visited the world famous Gold Museum. The display of various ornaments and jewels made in gold from pre-historic times was really breathtaking. They took us to an old town Usakin, which was in Down- town Bogota. This place has an unusual history behind it. In earlier times virgin women were killed and buried and houses were built on them. It was believed that the virgin women gave strength to the buildings.
It was the Simon Buliverís dream to unite the whole of South America into one. But it never happened and so Latin America till today, stays as many small independent countries.
We next went to Santa Cruz, (Bolivia). And this place was as hot as Chennai. We were the first cultural group from India to have visited Bolivia. We had performances at The Eaglesí Theatre, and our stay was packed with television presentations, workshops and performances. Like in India, South America also has many television channels and we performed for all the main TV channels. There were only 15 Indian families and we were moved by their hospitality and warmth.
We visited the famous Handicrafts fair organized by the government to promote handicrafts. We saw the workmanship and skill of the people of Bolivia.
Our next place of visit was Lima (Peru). We had to change flights at Lapaz (capital of Peru). Lapaz is the highest city situated at about 4600 metres above sea level. They were warning us not to exert ourselves, since the oxygen content in that place is very low and they also told us that there is a hole in the ozone layer and asked us not to be out in the sun for too long. We flew over the famous Andes Mountains. The sight of the snow filled huge mountain ranges was beautiful and breathtaking. We also saw the largest salt water navigable lake Titicaca, which is about 180 km in width.
Lima had a chilly climate and we performed at the Indian Ambassador Mr. Warjrarís residence. It was for our national day celebrations by the Indian Embassy on August 14th . It was a special show for all the diplomats and VIPís including the President.
They enjoyed our performance very much and it was a moment of great pride for us to be representing our nation on that special occasion. We also conducted workshops for a modern dance company there.
Our trip was coming to an end. We were feeling sad but also happy to return to India. We were moved by the warmth and friendliness of the people of South America and we are rich with beautiful memories about the trip. We owe our thanks to ICCR for sending us to this interesting place, South America.
Radhika Shurajit who runs a dance school 'Thrayee' in Chennai, also produces a Bharatanatyam game show for a T.V. channel in Madras. You can write to her at radhikashurajit@yahoo.com