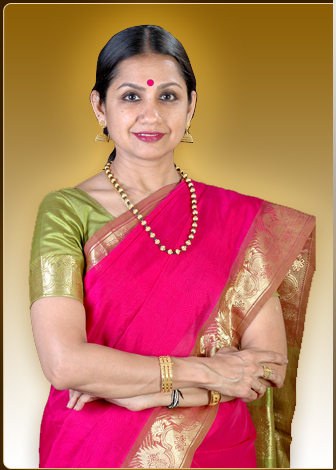 ROJA KANNAN
#GA,(61-A) 14, Seethamma Road,
ALWARPET Chennai-600 018.
Phone : (044)2432 3299/
Mobile:98840 98453
Email: rojak@sify.com
Website: www.rojakannan.com

Roja Kannan is a Bharathanatyam artiste and is a very senior disciple of the renowned Guru Padmashri Adyar K. Lakshman and Padmabhushan Kalanidhi Narayanan. Born in a family steeped in rich musical tradition being the granddaughter of the renowned musician Palghat Rama Bhagavathar she grew up in an atmosphere of music and dance and started dancing even before she started walking.

Her formal training started when she was five years old at " Natyalaya" the dance school of Smt. Vyjayanthi Mala Bali where she came under the direct tutelage of such illustrious gurus like Kavi Aravindakshan, and Adyar K.Lakshman, in Bharathanatyam and Trichur P.Ramanathan in Mohiniattam. She has also had intensive Abhinaya (expressive dance) training from Smt. Kalanidhi Narayanan since she was 15 at her dance school "Abhinaya Sudha".

She performed her " Arangetram" formal dance debut at the age of 12 and has not looked back ever since. She has over three decades of Professional performing experience and has hundreds of performancesand lecture demonstrations to her credit both in India and abroad.

She has performed in all the major Cultural Festivals conducted by Sabhas and Cultural Organisations all over the world. In July 2004, she had the unique privilege of performing at the Jacob's Pillow International Festival Of Dance at Lee, Massuchusetts USA with very senior artiste Lakshmi Viswanathan who was the only Asian to be invited to perform at the Festival.

In November 2006 she was asked to perform with the world renowned music group "Global Rhythms" of the Miami University,Oxford, Ohio, USA at their Annual Festival where she teamed up with students of the University and trained them in numbers from the Bharathanatyam repertoire which they performed in the Festival and also collaborated with Tap Dancers and performed a neo Classical piece.



The "Best Dancer Award" from the Music Academy, Chennai in December 2002 during their Platinum Jubilee Celebrations and the P.Obul Reddy Endownment Award for the "Best Senior Dancer" from Natyarangam the Dance wing of Narada Gana Sabha Trust in August 2003 the title of "Nadana Kalaimani" from the Ramalingar Pani Mandram, Chennai "Sathya Nrithya Sundaram" from the Bharathanjali Trust, Chennai,"Natya Ilavarasi" from the Sree Shanmukhananda Sangeetha Sabha ,New Delhi and the title of "Kala Seva Bharathi" from the Bharat Kalachar, and the Probus Club "Woman Of Excellence Award" Chennai are some of the awards and recognitions that she has received.

She is an empanelled artiste of the Indian Council of Cultural Relations (ICCR) New Delhi and an "A" grade artiste with the Doordarshan, India, the National Television Network.

She is also a much sought after Nattuvangam (Dance Conductor) artiste by leading dancers and is well trained in Carnatic Indian Music.

She is serving as the General Secretary of ABHAI (Association of Bharathanatyam Artistes of India) for the past seven years .She runs her Own Academy of Dance & Music "Bharatha Natyalaya" at Chennai, India where she is training over 100 students. She is also the dance tutor at the Vidya Mandir Senior Secondary School,Mylapore,Chennai.